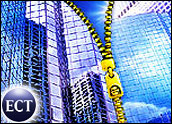 Alcatel and Lucent announced Sunday they plan to merge in a US$13.4 billion deal that will create one of the largest telecom and Internet gear makers in the world — and one that may face tough scrutiny from regulators.
Exactly a week after acknowledging that they were talking about a possible deal, the two companies said they had reached agreement to merge into a $25 billion-a-year company with global reach and strong ties to many of the top telecommunications and cable companies.
"We are very excited about this combination," Lucent CEO Patricia Russo said in a conference call. "We see this as an opportunity to create a clear, competitive advantage in the marketplace."
Shifting Landscape
The companies cited a dramatically changing marketplace as the driving force behind the deal, which had been explored but never consummated some five years ago. Following a slew of mergers, only a fraction of the number of major phone companies remain — even as a new breed of equipment makers, many based in China, drive prices lower in many parts of the world.
"Now seems to be the optimal time, because this combination gives both companies a time-to-market advantage in a market that is changing quickly," said Serge Tchuruk, the CEO of France-based Alcatel.
Close to 9,000 jobs — or 10 percent of the current workforce of 88,000 — could be in jeopardy as the merger progresses, Russo said. Neither company detailed where the cuts would occur, but the companies expect some $1.7 billion a year in savings within three years.
The deal calls for each Lucent share to be exchanged for about two-tenths of a single ADS (American Depository Share) of Alcatel. In midday trading Monday, Lucent shares were up 1.3 percent to $3.09. Alcatel ADSs were up more than 5 percent to $16.25.
Anticipating Questions
The companies billed the deal as a merger of equals, but Alcatel will own 60 percent of the merged entity, which has yet to be named but will be based in Paris. Lucent's Russo will serve as CEO.
The two companies also announced they would establish a stand-alone subsidiary of Lucent that will handle that company's existing and future business with the U.S. government. Establishing a new subsidiary to handle sensitive government work is meant to answer concerns about national security and foreign ownership that were raised immediately after word of the possible merger first surfaced last week.
Bell Labs, Lucent's premier research facility, will remain at the current Lucent headquarters location in New Jersey and will handle all classified and secret work with the U.S. Department of Defense and other agencies, Russo said. That company will be overseen by President Jeong Kim, a former U.S. Navy nuclear submarine officer.
"We will implement the combination between Lucent and Alcatel with U.S. national interests as one of our critical priorities, so that we can continue to assure protection of our classified work for the U.S. government," Russo said.
Thorny Security Questions
"There are serious security issues that need to be discussed," telecom analyst Jeff Kagan told the E-Commerce Times. "As much as they want to call it a merger of equals, Alcatel is a lot bigger, and the headquarters will be in France, so we have to look at it as an acquisition of a key American communications technology company by a similar French company."
Antitrust regulators are also expected to take some time to delve into the deal to judge whether customers and consumers will be impacted, but most believe it will be approved.
The range of companies that deliver telecom services now includes not only traditional telcos, but also cable companies and some Web services firms — AOL, eBay's Skype, Yahoo and Google — and as a result, the range of hardware that can be used to deliver those services is also greater, Kagan noted.
Tip of the Iceberg
The merger has already triggered expectations that more will be on the way as an industry that was racked by the dot-com fallout tries to adjust to new market realities.
In fact, more mergers are likely to surface within a year, and within two years, the Internet and telecom gear industry will see "major structural changes," Yankee Group senior analyst Nick Maynard predicts.
"This merger is another confirmation of the telecommunications industry experiencing dramatic changes in business models, strategy and operations," said Maynard. "As carrier consolidation continues to drive increased vendor instability, existing players will need to seek merger and partnership opportunities to compete within the new market structure."
The merger will set up a new competitive landscape, Gartner analyst Frank Fabricius said, with the combined company challenging Cisco as the top maker of networking equipment.
"Together, they should have the scale to avoid being squeezed between low-cost Chinese producers and giants like Cisco," he said. "With Lucent Worldwide Services, they have capabilities broader than those of more limited competitors."