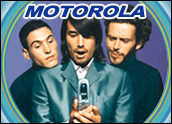 Motorola reported third-quarter net profits of $60 million, a dismal number compared to the US$968 million in profit it enjoyed a year ago but better than the net losses it suffered in the past three quarters.
The fact that the Schaumburg, Ill., electronics maker turned a profit in Q3, albeit a slim one, gave a bump to its stock price as analysts and investors believed company officials' projections that Motorola was done sliding and about to gain some lost ground. In midday trading, the company's stock was up 69 cents, or 3.72 percent, at $19.24 per share.
Motorola has been hit hard by competition from mobile phone giant Nokia and other players in the dog-eat-dog mobile segment, including Samsung. Adding salt to its wounds during the quarter was the release of the Apple iPhone.
The Human Toll
Motorola reported revenue of about $8.8 billion, a 17 percent decline on the year. The $60 million net profit equated to 3 cents per share. In the third quarter of 2006, the company's big profits equaled 39 cents per share.
While the upturn is good news for those investors, it came with some pain: Motorola slashed 7,500 workers during the year. The company's troubles have also put Chairman and Chief Executive Ed Zander on the hot seat as Motorola struggled to come up with a new phone as popular as its Razr.
"Lackluster" but the Right Direction
The company shipped 37.2 million handsets during the quarter. Motorola's mobile devices section reported a 36 percent yearly decrease in revenue to $4.45 billion.
The company's performance in handsets was "lackluster," Strategy Analytics mobile analyst Neil Mawston said, noting also that the market share gap between Motorola and Samsung grew substantially during the quarter. Motorola's share of the global handset market for the quarter was about 13 percent.
Nevertheless, shipment volumes for the Razr 2 "look healthy" and are helping the company finally stabilize its revenue and profit, Mawston noted.
Razr Burn
"Their problems have been kind of piling up for a while now, for over a year," Mawston told the E-Commerce Times. "Essentially it comes down to the Razr. They developed a blockbuster product, the Razr. But as thought leaders around world were ramping up for 3G, they did it too late and introduced a weak product."
The original Razr was sleek and ultra-thin, while the 3G unit that followed was "fatter and uglier," Mawston said.
While the iPhone's introduction "hasn't helped," and created a "tougher environment" for Motorola, Mawston stressed that the company's real blunder was missing the boat on 3G in Europe and Asia.
"Their problems were being sown long before the iPhone arrived," said Mawston. "Nokia, Sony Ericsson and Sharp are all doing well in 3G."
On a Roll
Motorola introduced nine new phones this month and shipped more than 900,000 Razr 2s. During the quarter it released the Moto U9 music device and the iC602 dual-mode, Integrated Digital Enhanced Network (iDEN)/Code Division Multiple Access (CDMA) device, expanded the Z6 line with the introduction of Rokr Z6m and Z6tv and introduced "an ultra high-speed WiMax chipset solution, optimized for both size and low power consumption."
Company officials expect the turnaround that began in the third quarter will gain traction in the fourth quarter. The company is projecting earnings of 12 cents to 14 cents a share.
Company leaders "are pleased with the improvement in the financial performance of mobile devices" and look forward to "building upon the progress" the company made during the quarter, Zander said.
"We have strengthened our leadership position in broadband video, WiMax, next generation government and public safety and the enterprise mobility markets," Zander added. "With our focus on these key opportunities and the initiatives we are taking in mobile devices we will further improve our performance and create long-term shareholder value."
Acquisitions and WiMax Publicity
Motorola's home and networks mobility segment reported sales of $2.4 billion, up 6 percent compared with Q3 of 2006. Operating earnings were $165 million, compared with operating earnings of $231 million in the year-ago quarter.
During the past three months, Motorola noted, it shipped its two millionth Internet Protocol television (IPTV) set-top device and expanded by acquiring Leapstone Systems, Modulus Video, and Terayon Communications.
Motorola is proud of its involvement in WiMax and it pointed out the heavily-reported demonstrations that took place last month at the WiMax World Conference in Chicago.
Big Gains in Enterprise Mobility
On the enterprise mobility front, Motorola reported healthy sales of $2 billion, up 47 percent compared year-to-year. Operating earnings were $336 million, compared with $280 million earned during Q3 of 2006.
During the quarter, Motorola launched in some Asia and Latin American markets its dual-mode, digital 2-way communications platform, called "Mototrbo." The platform integrates voice and data. It said it also awarded several county-wide public safety contracts in North America, shipped the millionth MC9000 rugged mobile computer and began shipping the MC17 mobile computer, described as a device "aimed at retail, in-store applications for enhanced personal shopping experiences."