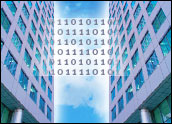 As it prepares to meet its customers' growing demands for wireless multimedia services, AT&T's board of directors approved the acquisition of 700 MHz spectrum licenses from Aloha Partners.
The purchase will cost the nation's largest wireless carrier about US$2.5 billion. The purchase will give AT&T licenses covering 196 million people in 281 markets, including 72 of the top 100, and all of the top 10, markets in the United States. It will add 12 MHz of spectrum to AT&T's holdings.
Signals in the 700 MHz portion of the spectrum, which corresponds with UHF channels 54 and 59, are ideal for high-speed, high-demand uses, noting the electromagnetic waves of that frequency pass through walls efficiently.
Demand-Driven Acquisition
The need for broadband wireless connectivity is increasing, said Forrest Miller, AT&T's group president for corporate strategy and development.
"Customer demand for mobile services, including voice, data and video, is continually increasing," he said. "Aloha's spectrum will enable AT&T to efficiently meet this growing demand and help our customers stay connected to their worlds."
AT&T expects to secure government approvals for the acquisition and close the deal in six to nine months. The Federal Communications Commission (FCC) plans to auction 62 MHz of additional 700 MHz spectrum licenses on Jan. 24, frequencies currently held by UHF TV broadcasting companies. The FCC is authorized to move TV broadcasters operating on channels 52-69 to channels below channel 52 before Feb. 19, 2009.
Aloha, based in Providence, R.I., is the parent of the mobile television network HiWire, and it was the largest buyer of spectrum in the 2001 and 2003 FCC spectrum auctions.
Open Access, Open Conflict
There is an ongoing battle relating to open access provisions in the upcoming 700 MHz auctions. Google is still thinking about participating in the auction even though existing mobile carriers, particularly Verizon, seem to have FCC's ear in the open access issue.
"We are still carefully analyzing whether and how we might participate in the upcoming auction," said Google in its Public Policy Blog. "However, if we do end up bidding and ultimately win the spectrum in question, we would ensure that consumers have the right to decide which devices and applications they want to use on our network."
"The Internet offers the optimal model for what best serves the interests of all consumers" said Google, adding that it hopes the FCC "sticks to its guns as it tries to introduce the open ethos of the 'Net to a small segment of the closed wireless world."
The Road to 3G
Meanwhile, with its Aloha acquisition, AT&T owns more 700 MHz spectrum than anybody else. The big-money deal might mean AT&T will not bother with the January auction, Sterling Market Intelligence Principal Greg Sterling said.
"Aloha was reportedly the largest owner of one type of 700 MHz spectrum, which is being used by analog TV stations," Sterling told the E-Commerce Times. "It's desirable because it's versatile and can be used for broadband delivery … AT&T may not need to participate in the forthcoming auction."
Hurry Up, Already
Another view is that the AT&T/Aloha deal is just one more example of the value companies are placing in the future of wireless broadband.
"If anything, it's a sign that operators are willing to continue to spend in the 'B's for the spectrum," Strategy Analytics analyst Chris Ambrosio told the E-Commerce Times.
For American consumers who have been jealously watching Asia and other parts of the world enjoy their so-called "3G" high-speed wireless networks, the dust can't settle soon enough.
"The wireless operators are planning to use this spectrum being bought now for all their 3G data services," said Abmrosio.