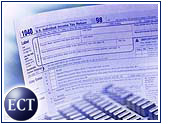 AOL Time Warner (NYSE: AOL) and taxpreparer H&R Block (NYSE: HRB) said Tuesday that they have signed a multi-year, cross-promotional alliance.
The deal makes H&R Block the exclusive tax-service provider for AmericaOnline properties. H&R Block's services will be featured on AOL, CompuServe, Netscape, Money.com and Digital City, the companies said.
Under the deal, H&R Block will advertise its services and products over AOL Time Warner's Internet, print and television properties. It will also offer AOL's Internet service to its U.S. tax-office clients, and AOL Time Warner will offer its employees discounted tax-preparation services.
H&R Block president and chief executive officer Mark Ernst said theagreement gives his company the opportunity to expand its businessstrategy both online and off.
"Our products and services will be more accessible to the largest consumeraudience online," said Ernst. "Plus, the broad range of AOL Time Warnertraditional media allows us to reach key target audiences with relevantproduct offerings."
More AOL Software
AOL said it will begin showcasing H&R Block services this fall in its Tax Center area. Other AOL brands will launch their H&R Block products and services by the end of the year.
The media giant also said the agreement will promote AOL software to the approximately 17 million taxpayers who visit H&R Block's retail offices.
The companies also said they will explore other opportunities forcross-promotion. Financial terms of the new alliance were not disclosed.
H&R Click?
H&R Block has been moving to integrate its online and offline tax-serviceoperations. In June, when the company announced results for the fiscal yearended in April, Ernst said the company would "more aggressively execute" itsbrick-and-click strategy this year.
H&R Block, which was scheduled to report fiscal first-quarter results afterthe close of trading Tuesday, also has partnerships with Yahoo! (Nasdaq: YHOO) andMicrosoft (Nasdaq: MSFT). The company competes with Intuit (Nasdaq: INTU), maker of thepopular Quicken tax-preparation software, in offering online tax-preparationservices.
Taxing Times
Some 35 million Americans submitted their tax returns over the Internet lastyear, according to the Internal Revenue Service (IRS).
However, a General Accounting Office report released in March found security problems with the IRS system used by H&R Block and others. Though no security breaches were found, the GAO said it would havebeen possible for unauthorized users to gain access to and modifyinformation about taxpayer returns.