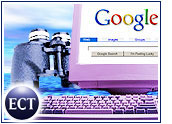 Seeking to retain its edge in the fiercely competitive search engine world by expanding its pool of engineering talent, Google has said it plans to open a research and development facility in India next year.
The company has settled on Bangalore, a city often referred to as India's Silicon Valley, as the location for its first non-sales office outside the United States.
Google vice president Wayne Rosing said the goal of the move is to find "more really great engineers." He added that the company will hire about 100 software professionals at the site.
Not Outsourcing
Google was careful to emphasize that the new facility will be in addition to existing labs in the United States and will not take any jobs away from U.S. workers. Google's hiring practices are legendary, with the company reportedly selecting only graduates of the nation's top schools to be considered for employment.
In addition to gaining access to thousands of highly educated computer professionals in Bangalore, Google also will be able to have an R&D staff that essentially works around the clock, with the India crew arriving at work just as U.S. workers are signing off for the day, and vice versa.
That time edge could prove important, as Google is now locked in a fierce race with such rivals as Yahoo and Microsoft. Although Google broke out to an early lead based on what many consider to be superior technology, its competitors have sunk millions of dollars into acquiring firms and developing tools that rival Google's.
"They know they're being chased down by companies that have shown a commitment to put all necessary resources toward overtaking them," Forrester Research principal analyst Charlene Li told the E-Commerce Times. "If they can't stay ahead on the technical front, they lose the one thing that's distinguished them from the pack so far."
Getting Ready
Google is widely believed to be putting finishing touches on a filing for an initial public offering that is likely to happen sometime in the spring of 2004. An IPO would give Google quick access to capital it could use to expand, but also would open the company, which some say has grown too quickly to remain effective without internal changes, to additional scrutiny.
Google already maintains sales offices around the world and has targeted overseas markets as a source of potential growth if its gains in the United States begin to slip.
Hot Topic
Using employees in India and other overseas locations is a hot-button issue in technology circles, with some high-tech unions railing against the practice, saying it is unfair to U.S. workers.
Last month, Dell announced it was shifting some of its India-based telephone support call centers back to the United States after widespread customer complaints about the quality of service coming out of those sites. Still, most experts expect the trend toward using overseas help to continue, with more software engineering and other white-collar jobs being outsourced along with support work.
"Many of what might be considered the best jobs will be created overseas during this current upturn," CEO John A. Challenger of outplacement firm Challenger, Gray & Christmas told the E-Commerce Times. "I think you're going to see added tension with American workers on this front, but for companies, the opportunities for cost savings and efficiencies are too compelling to ignore."