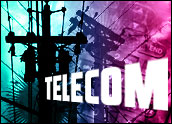 AT&T, Qwest and Verizon won the right to bid for US$20 billion in federal telecommunications contracts, the U.S. General Services Administration (GSA) announced Thursday.
Noticeably absent from the list is Sprint, which previously held the rights to bid for U.S. government telecommunications contracts.
The anticipated deals are part of the federal government's Networx contracts — the first of which, Networx Universal, spans 10 years. The second, Networx Enterprise, also contains lucrative contracts. The GSA plans to announce the winners of that award in May. All told, the Networx contracts have the potential to reach $48 billion.
Networx Universal is designed to help 135 federal agencies across 191 countries acquire voice, IP, wireless, satellite and IP-centric services. In addition, GSA hopes the new Networx-related services will "transform the current federal telecommunications system to a secure, worldwide IP and MPLS (multi-protocol label switching)-based network, compliant with Internet Protocol version 6 and other major technological advances anticipated throughout its contract life."
Winners and Losers
AT&T's last major government contract ended in 1999, but the global telecom's current position isn't a big surprise because of the company's size and reach. Verizon's GSA nod is also unsurprising; through the acquisition of MCI two years ago, it already provides telecom services in the federal market. Sprint and Qwest, however, have a lot more to lose and win, respectively.
"I think this is really bad news for Sprint," Warren Suss, a federal IT consultant/analyst for Suss Consulting, told the E-Commerce Times. "They were a dark horse winner on the first contract, and it became a showcase contract … and they built their business on it, filled their pipeline, and now they are out of the game for much of the federal marketplace. It's a devastating blow for them."
GSA didn't say why Sprint didn't get tapped again, but it most likely had to do with issues surrounding pricing or the ability to provide the full range of telecom and network services required under the Networx Universal contract. Suss said that Sprint will remain a competitor for wireless service.
As for Qwest, the GSA award represents a huge win, even though the company still has to compete with AT&T and Verizon to win actual contracts to provide services to federal agencies.
"This puts Qwest at the table and gives them a chance to play with the big boys," Suss explained. "It's an opportunity to bring in some enormous contracts that would otherwise be beyond their reach."
Convergence of Services
"What I think is really interesting — and what makes this contract potentially transformative — is that GSA is trying to expand the range of network-based services provided. They've tried to look out over the ten-year horizon of the contract, and they've taken the concept of managed network services and have expanded it into services like storage, hosting, conferencing, collaboration and contact centers," Suss explained. "These are services that up 'till now have been provided on an enterprise basis."
If it works, it will let federal agencies get out of the business of running and operating as much of their own IT systems and ultimately run leaner and meaner, Suss noted.
Networx Enterprise
The GSA Networx Enterprise contract will look at a much smaller number of service delivery points, letting more organizations bid for a chance to provide services to government agencies. Some of those services may overlap with some Networx Enterprise services, but they will more likely be used by federal agencies for such niche areas as satellite or wireless requirements.
"Sprint will likely win a seat at the table on the Enterprise side — but compared to Universal, that's going to be small change," Suss added.