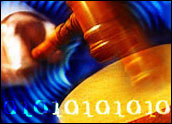 Rambus has won a patent-related trial against three semiconductor companies.
The long legal battle may not be entirely finished for the technology developer, however. Put in basketball terms, Wednesday's victory was more a three-point shot with a minute remaining than a last-minute slam dunk.
A jury found that Rambus, a developer of semiconductor technologies that it licenses out to manufacturers, did indeed "act properly" while a member of the standard-setting organization JEDEC (Joint Electron Device Engineering Council) during its participation in the organization in the early 1990s.
In effect, this means that Hynix Semiconductor, Micron Technologies, and Nanya Technology did not meet the burden of proof required to prove their antitrust and fraud claims, Rambus reported Wednesday.
Stock Polished
This verdict should complete the case involving Hynix, Rambus reported, noting that Hynix was found by a previous jury in April 2006 to infringe a variety of Rambus patents. In that phase of trial, Rambus was awarded US$133.6 million in damages.
"This ruling should put to rest a series of ongoing allegations Rambus has endured for many years," noted Tom Lavelle, senior vice president and general counsel at Rambus. "Our business is to license our revolutionary technology to the industry for fair compensation. We are pleased to have this decision behind us as we continue to engage with the industry to deliver compelling products to the market."
At stake are hundreds of millions of dollars in royalties that semiconductor companies might have to pay Rambus — a point not lost on investors today, who pushed Rambus shares up nearly 40 percent. The time frame for any such possible payments has not been determined.
Reportedly, Micron and Hynix are considering appeals.
A Brief History
The case with Hynix was originally filed by Hynix against Rambus in August 2000, but the judge in the case split it into three separate phases, with Rambus prevailing in all three. Cases are still pending against Hynix, Nanya, Micron and Samsung in the Northern District of California, and with Micron in the District of Delaware.
Rambus holds patents and technology solutions surrounding its fast XDR (Extreme Data Rate) memory architectures, which are licensed and used in a variety of technologies. For example, the XDR memory architecture is at the heart of Sony's PlayStation3 as well as Toshiba's SpursEngine graphics processor, and XDR technologies will be used in Toshiba HDTVs. Rambus also signed a memo of understanding with Intel in November to explore potential uses for its technologies, but Rambus has also stressed that nothing definitive was signed — just that Intel was evaluating the technologies.
"A growing focus for the XDR memory architecture is in the low-power and high-performance consumer markets where consumers want a wealth of functionality on one device, and that means the bandwidth requirements for such devices are very high — this includes high-definition televisions, computing, and mobile applications," Gabriele Collier, corporate communications manager for Rambus, told the E-Commerce Times.
"In addition, XDR continues to be the memory architecture of choice for graphics and compute intensive applications, enabling state-of-the-art image processing performance and computing at unprecedented speeds," Collier added.