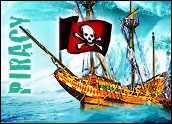 Microsoft has fired off a slew of federal lawsuits — 21, to be exact — against resellers in 14 states. In the suits, Microsoft claimed the resellers are engaging in the sale of pirated software. Some of the lawsuits include eight possible repeat offenders that may not have learned their lessons the first time around after settling previous lawsuits with Microsoft.
Microsoft said its legal actions are aimed at preventing consumers from getting duped when they buy a new or used PC. In the cases announced Tuesday, Microsoft claimed some of the resellers misled customers by repeatedly distributing unlicensed copies of Microsoft Windows XP and/or Microsoft Office pre-installed on the PCs they sold.
"These legal actions are about protecting Microsoft's customers from falling victim to some dealers who operate a business model of peddling pirated and counterfeit software," noted Sharon Cates, an attorney at Microsoft.
"The cases announced today are indicative of the need to ensure that dealers cease their illegal activity so that customers can be sure that they purchase genuine, fully licensed software," she added.
The Pirate Creed
Pirates often dupe consumers into buying unlicensed or non-genuine software through hard-disk loading, which is the practice of installing unlicensed software onto a PC and then selling the computer to unsuspecting consumers, Microsoft said.
The consumers usually don't receive manuals or the original software on a disc — even though some resellers have charged the consumers full price. The first hint for consumers that something might be amiss occurs when they try to update their software through official Microsoft channels.
Consumers that are worried they might have unlicensed software can check online with Microsoft through the company's Windows Genuine Advantage (WGA) or Office Genuine Advantage (OGA) online validation tools. If customers learn that they may have non-genuine software, the validation tools also provide an opportunity for the customer to inform Microsoft of the source — and customers may even be eligible to receive a genuine replacement copy.
Microsoft said evidence for some of these cases stemmed from direct customer reports to the company's anti-piracy hot line, (800) RU-LEGIT, as well as from reports received through the WGA online validation tool. Microsoft's investigators said they received two such leads against Computer Center in Encino, Calif., and Delta Computers in Pine Bluff, Ark.
Others Fight the Fight, Too
"Pirated software is often shipped over from China, but not necessarily. Then there's all kinds of illegal sales of contraband software — or otherwise known as 'gray market' — either OEM or academic, and unbundled software that's sold online or on auction sites," Scott Bain, litigation counsel for the Software & Information Industry Association (SIIA), told the E-Commerce Times.
"We sue eight to 10 sellers a month, and we have ISPs take down Web sites — we're helping to curb the problem, but it's still a very prevalent problem," he added.
More than one-third of PCs around the world are unlicensed or contain pirated or counterfeit software, according to the Business Software Alliance's fifth annual global PC software piracy study, released in May. In the U.S., the piracy rate in 2007 was 20 percent, a one-point decrease from 2006; however, in that same time period, the economic losses from piracy increased from US$7.2 billion in 2006 to more than $8 billion in 2007.