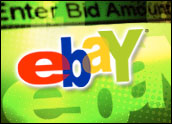 The Software and Information Industry Association (SIIA) filed eight more lawsuits against eBay sellers the group says are hawking pirated versions of software from Adobe, bringing to 17 the number of suits it filed so far this year.
The SIIA said it filed suits against sellers based in Arizona, California, Connecticut, Florida, New Jersey, Pennsylvania and Texas. The group had filed nine lawsuits on a single day in February.
All of the actions were filed in the U.S. District Court for the Northern District of California on behalf of Adobe Systems, a member of the trade association.
Combating Piracy
The sellers targeted in the action are accused of selling illegal copies of Adobe's Photoshop CS3 and other programs.
eBay, which is not named in the actions directly, did not immediately respond to a request for comment on the lawsuits.
"SIIA will continue to combat auction site piracy by monitoring and suing sellers of illegal software without warning — regardless of where or how the seller acquired the illegal copies," said Scott Bain, the association's litigation counsel. "These sellers are finding out that the penalties far outweigh the quick profits they hoped to gain by selling illegal software."
Monitoring the Wires
The suits resulted from monitoring work done under the SIIA's Auction Litigation Program, it said. The program has already led to successful prosecutions of software pirates on eBay and direct-sales Web sites, the group added. Defendants have paid as much as several hundred thousand dollars in restitutions in earlier cases, the group said.
Software makers say they lose billions in revenue each year due to the sale of fake or pirated copies of popular programs. While piracy is most prevalent is emerging economies such as Eastern Europe and China, sales of such unauthorized programs remain widespread in the U.S. as well.
The group said the underground sales harm end-users as well as software makers, by exposing them to programs that do not work as well as the genuine article or the risk of installing spyware, viruses or other malware on to their computers along with the illegal software.
Those risks have grown in recent years, Yankee Group analyst Laura DiDio told the E-Commerce Times, as software pirates use the enticement of low-priced brand-name software to get users to self-load malware on to their own computers.
"People use the Internet, especially eBay, to seek out bargains, and many may be buying pirated or fake tools without knowing it," DiDio said.
Last year, a study by research firm IDC argued that one in every four software products downloaded directly or purchased online from sources other than the software vendor itself was corrupted with malicious code. The same report found that more than half of the software being sold on auction sites was genuine, licensed software.
Containing the Problem
eBay has found its platform used by pirates, fraudsters and others for much of its history, with auction fraud and related complaints regularly ranking as one of consumers' most pressing concerns about e-commerce.
Meanwhile, Adobe has joined Microsoft as one of the companies whose software is often found for sale on the Web for cut-rate prices, often a sign that the software being sold has been illegally copied. Adobe is a favorite target because its programs often come with a steep price tag. The Photoshop CS3 program retails for US$649 on the Adobe Web site; an extended, professional edition retails for $999.
The software industry has been aggressively campaigning against piracy for years with both civil and criminal prosecution used against alleged pirates. Earlier this month, two Florida residents were sentenced to federal prison terms after admitting to selling $6 million worth of pirated software over the Internet.
Financial Impact
The industry has long claimed that the financial impact of piracy goes well beyond the firms whose programs are being sold without authorization.
The Business Software Alliance (BSA) released a study recently showing that a 10 percent reduction in piracy rates worldwide could result in billions of dollars worth of new information technology spending and tax revenues to local governments.
"Reducing piracy benefits everyone," BSA CEO Robert Holleyman told the E-Commerce Times.
The two industry associations have taken slightly different approaches, with the BSA focusing its enforcement efforts mainly on large companies that use unlicensed software. The group regularly announces settlements with businesses found to have unauthorized software on their computer networks.
"The piracy problem is large enough that it requires attention to various fronts," Holleyman said. "Enforcement at all levels is important, as is education of both consumer and business users."