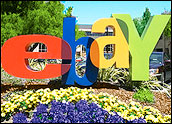 In a bid to cut out the middleman and drive its own Web traffic, eBay said Monday it would launch a partner network that will replace affiliate relationships the auction site has long relied on to get users to its site.
The eBay Partner Network will launch April 1 and give publishers and other partners "expanded access to revenue opportunities" across the now-sprawling eBay platform, the company said.
eBay has been involved with affiliate programs since 2001, paying third parties a small commission for each user who clicks through an ad or link on their page to reach the eBay network.
Improving the User Experience
Though it will maintain some third-party affiliate network relationships, eBay said it will no longer use the Commission Junction ad platform. One of the largest affiliate sites online, Commission Junction, is a ValueClick subsidiary. Smaller programs, such as those eBay has established through Affilinet and TradeDoubler, will remain active for the time being.
Such affiliate networks typically serve as clearinghouses for large Internet sites, working with large and small publishers, including hobbyists and bloggers to share links and by counting clicks and making payouts while taking a small slice for themselves.
eBay has some 100,000 affiliates worldwide already signed up through such programs.
"Affiliate partners are central to eBay's ongoing strategy of improving the user experience and increasing engagement," said Matt Ackley, vice president of Internet marketing at eBay. By enabling eBay to deal directly with affiliates, the new network will be more nimble, he argued, better suited to address the specific needs of eBay's seller community and over time be able to reach out to eBay properties and partner sites such as Skype and Craigslist.
Going It Alone
eBay did not detail the payout terms of the network, but said it would be "one of the most competitive" payment schedules in the industry.
eBay joins fellow e-commerce heavyweight Amazon.com in operating its own affiliate network. Amazon has maintained its own program for paying third-party Web sites that drive traffic to its site since 1996.
While third party affiliate networks take a small commission on each click, those payouts may add up to significant income lost on a network as large as eBay's.
Some of eBay's specialty sites, such as Tradera, ProStores, Reseller Marketplace, Media Marketplace, eBay Stores and StubHub, will continue to work with Commission Junction, eBay said. All affiliate links to the main eBay site and the Half.com site will need to be shifted to the new program by May 1 in order to remain active.
eBay emphasized that it was not cutting ties with ValueClick entirely, saying it plans to continue to use the company's Mediaplex division for ad serving and other functions.
Affiliate networks are a somewhat invisible but important part of the online economy, leveraging sites such as blogs and small niche publishing sites to drive traffic to e-commerce sites.
Many major affiliate programs rely mainly on pay-per-action referral programs, in which a site pays for a referral only when a user completes a purchase, registers for a site or completes another action.
Such programs are often part of Web companies' overall marketing program and will likely continue to play a role, even as more online marketing spending is shifted away from paid search toward video ads, said Forrester Research Analyst Shar VanBoskirk.
"The overall interactive marketing spend is going to continue to go higher, and programs that work will benefit from that," VanBoskirk told the E-Commerce Times.
Such programs are also becoming increasingly sophisticated, with links able to be targeted based on Web site content and other factors, she added.
Changes Afoot
Major Web companies have shown increasing interest in affiliate programs, with Google launching a pay-per-action network late in 2006 and AOL saying early last month it would buy UK-based affiliate network Buy.at in a move seen helping to round out its overall menu of advertising programs.
Amazon's program is now said to include some 1 million affiliates, who are paid based on what the users they send to the site do once there. Having in-house control of the program may enable eBay to more closely monitor and refine its affiliate rewards. For instance, when it was trying to boost its used goods sales, Amazon significantly increased the referral fees it paid affiliates for those items.
eBay is in the midst of several changes meant to light a fire under its core marketplace, changes that have angered some sellers along the way. The auction site endured a boycott by sellers after it altered its fee structure significantly. eBay announced in January that longtime CEO Meg Whitman would leave the company at the end of this month.
"The mission at eBay right now is to reinvigorate the core business," Endpoint Technologies Associates President Roger Kay told the E-Commerce Times. "They continue to dominate their market, but investors want growth."
With Whitman's departure comes an opportunity to rethink how the business is run, Kay added, from the top down. "There is a chance for new thinking and new approaches, both big and small, that could add up to a new energy," he said.
Though executives have argued that the site is well-positioned to thrive in an economic downturn due to its focus on discounts and deals, eBay warned in a regulatory filing last month that it was facing new challenges in keeping customers and acknowledged the risk that more sellers would seek other outlets for their goods.