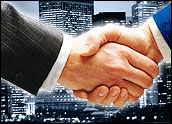 Like two baseball card collectors trading player cards they already own for ones they don't, AT&T and Verizon are swapping wireless assets. The two wireless service provider giants have agreed to trade licenses, network assets and subscribers in an effort to help manage separate acquisitions made by each of the companies.
AT&T's extra assets and swap plans come courtesy of its acquisition of Dobson Communications, while Verizon's trading plays stem from its upcoming acquisition of Rural Cellular, which is expected to close in early 2008.
Under the terms of the agreement, AT&T reports it will acquire some former Rural Cellular properties, including licenses, network assets and subscribers, in the Burlington, Vt., metropolitan service area and in rural service areas in New York, Vermont, and Washington state. AT&T will also acquire a cellular license from Verizon in Kentucky.
Also under terms of the agreement, Verizon will acquire from AT&T some former Dobson Communications properties, AT&T says, which also includes licenses, network assets and subscribers in Kentucky. Verizon will come away with 10 MHz of PCS (personal communications service) spectrum in a number of markets and receive an additional cash consideration from AT&T, though AT&T didn't report the amount.
Business as Usual?
"This kind of swap happens from time to time when it makes sense for both companies," Jeff Kagan, a telecommunication and wireless analyst, told the E-Commerce Times. "This will strengthen the service coverage area for both competitors."
AT&T's acquisition of Dobson, which marketed wireless service under the Cellular One brand, brought the company 1.7 million subscribers, but some of those subscribers went to Verizon in the swaps announced today. Similarly, Verizon's Rural Cellular acquisition will snag it about 700,000 customers, but again, some of those customers will go to AT&T. Neither company revealed the actual net gains each company would end up with.
The transactions were signed by both parties Monday, but they're also contingent upon regulatory approval and are expected to close by mid-2008.
While AT&T Is At It …
Because of AT&T's acquisition of Dobson, the telecom giant made a few more deals to satisfy its divestiture requirements that would allow the company to complete the US$2.8 billion Dobson buy.
AT&T also agreed to sell the Cellular One brand to Trilogy Partners, as well as entered into a separate agreement with MTPCS to sell the former Dobson property, including licenses, network assets and subscribers, in a Texas rural service area and portions of Oklahoma.