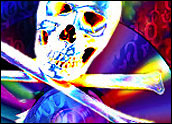 The Recording Industry Association of America has dumped a load of mud into the already murky waters surrounding the personal use of copyrighted music.
The trade group, which represents the U.S. recording industry, is taking legal action against Jeffrey Howell of Scottsdale, Ariz., for allegedly sharing music files via the Kazaa file-sharing network. Howell is one of thousands of individuals the RIAA has sued for such asserted activities; the vast majority settle their cases. As part of the Howell suit, one of the RIAA's attorneys said Howell possessed "unauthorized" MP3 files that he ripped from CDs for his own personal household use.
Ripping CDs — transferring music from a compact disk to a computer in an MP3 file format — is an action taken by millions of music listeners each time they buy a new CD or wish to digitally archive music they purchased in the past.
A Closer Look
In court papers filed by the RIAA in its case against Howell, the organization says, "Once Defendant converted Plaintiffs' recording into the compressed .mp3 format and they are in his shared folder, they are no longer the authorized copies distributed by the Plaintiffs."
This is not the first time the issue has surfaced. Last year, Jennifer Pariser, Sony BMG's chief of litigation, reportedly told a court that when a consumer makes a copy for him or herself, it's essentially the same as stealing just one copy — and that's still stealing.
However, on an RIAA Web site FAQ page, the organization notes, "Record companies have never objected to someone making a copy of a CD for their own personal use."
Which Way?
The RIAA did not return calls from the E-Commerce Times seeking comment. What may be gleaned from the two seemingly opposite assertions is that perhaps the RIAA finds it acceptable for consumers to create a copy of a CD by ripping it to a computer if the buyer then burns an entire copy of a CD and plays it back in CD, rather than MP3, form. However, if a buyer rips a CD into MP3 files and then makes a playlist of those files for playback on a computer, is that stealing? That action shifts the device on which the music is played, and while many consumers may think it makes perfect fair-use sense, the issue is far from clear.
The RIAA has not stated in court documents available online that ripping CDs to a computer for personal use is illegal; however, it clearly states it's unauthorized. The RIAA has attempted to associate the act of placing the music files in a shared folder with an illegal activity — the act of sharing the files.
Moreover, the organization's own Web site equates the creation of unauthorized copies with theft. "If you make unauthorized copies of copyrighted music recordings, you're stealing," reads a message on its site. "You're breaking the law, and you could be held legally liable for thousands of dollars in damages."
Not everyone agrees that copying files amounts to criminal behavior. "Users have a fair use right to rip their own CDs for their own use," Peter Eckersley, a staff technologist for the Electronic Frontier Foundation, told the E-Commerce Times.
"It's true that American copyright laws are terrible in that they don't make these basic facts clear to people, but that's partly because vested interests like the RIAA have been allowed far too much input into how they are written," he added.
"There's a big difference between 'unauthorized' copying and 'illegal' copying," Eckersley noted. "When fair use applies, it doesn't matter whether the acts are 'authorized' or not — they're legal."
In court documents, the RIAA describes the MP3 format as a "compressed format [that] allows for rapid transmission of digital audio files from one computer to another by electronic mail or any other file transfer protocol." While this description may emphasize that MP3 is a favored format among music pirates, the format is also used legally to encode millions of songs because it is playable on nearly any portable music device.
More Tricks
"I'd say we're seeing the last nasty trick-up-the-sleeve of the old record label sector of the music industry," Mike McGuire, a vice president of media research for Gartner, told the E-Commerce Times.
McGuire doesn't believe that the RIAA really wants to go after everyday customers who have CDs and rip them to MP3s in order to play them on their iPods and other MP3 players. "What they would like is for the tech sector to create managed devices — such as those developed for Microsoft's PlaysForSure and PlayReady systems — which tightly control the number of times the user could transfer files," he explained.
"Note that with most subscription services, if a subscriber wanted to burn a CD, they have to go pay a fee for each track — at a reduced fee from standard per-track retail pricing — and then burn them. Given that those usage rules are cocreated with or approved by the labels, you can see their attitude about 'owning' vs. 'renting' songs … [and] they'd prefer you rent it," he added.
What About DRM-Free MP3s?
In light of recent developments with legal, DRM-free (digital rights management) music downloads, the RIAA's stance on ripping raises questions. Why bother saying the copies are "unauthorized" at all when consumers can go to Amazon.com, iTunes and many other places and buy DRM-free MP3 files from most of the record labels in America?
Warner Music Group, one of the largest record labels in the country, recently announced it would offer DRM-free MP3 downloads through Amazon.com.
"Consumers want flexibility with respect to what they can do with music once they purchase it, and we want them to have that flexibility, which is why we're pleased to offer our artists' music on Amazon MP3," said Michael Nash, senior vice president of digital strategy and business development for Warner Music Group.
"We believe that giving consumers the assurance that the music they purchase can be played on any device they own will only encourage more sales of music," he added.
"I think [we] might finally be seeing the split that's been hidden from public view for about a year," McGuire said. "And that split is between the C-level record label leadership and some of the folks in the digital-media music industry. I'm not sure the RIAA represents all of the factions operating in today's labels — if they ever did."