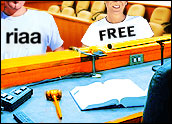 One of the first file-sharing lawsuits to go to trial could be concluded Thursday, and while the case is being closely watched, the Recording Industry Association of America (RIAA) said it will continue to pursue legal action against alleged music pirates regardless of the outcome.
Attorneys for the RIAA concluded their case against Jammie Thomas, a 30-year-old resident of Minnesota, on Wednesday. Thomas did not mount an extensive defense, but her attorneys made closing arguments late Wednesday. The RIAA will make its closing arguments Thursday, with a verdict possibly coming later in the day.
The RIAA claims Thomas was responsible for swapping and sharing some 1,700 digital music files over the Kazaa peer-to-peer network and during two days of testimony, the music industry group called 11 witnesses to the stand — including Thomas herself — to bolster their case.
Alleged Swapping
The RIAA is suing Thomas only for 25 specific song files, although that alone could bring court and lawyer fees and penalties of anywhere from US$19,500 to $3.9 million if the jury finds against her.
The alleged swapping came during early 2005, with Thomas adopting the user name Tereastarr — a name the RIAA said Thomas also used for e-mail accounts, online purchases and on MySpace and Match.com. Thomas, a single mother of two and a federal employee, is accused of giving away songs by artists such as Janet Jackson, Green Day, Guns N' Roses, Journey and Destiny's Child.
Although the RIAA has filed more than 25,000 lawsuits in recent years against individuals accused of sharing copyright-protected music without authorization, the vast majority of those accused have settled their cases, paying, on average, $2,000 in fines and restitution and agreeing to stay away from music-sharing networks in the future.
Thomas' defense team has focused on the fact that although she has been tied to the high-speed modem used in the swapping and the Kazaa account in which music was stored and distributed, no one can say for certain that Thomas was the person at the keyboard of the PC when the files were posted.
Thomas' attorney, Brian Tober, has raised the prospect during trial questioning that Thomas' computer could have been hijacked and used as a zombie machine. He also noted that if a wireless network were in place at the house, someone else could have used that access to post the files, though RIAA experts testified that there was no evidence wireless was used in the posting of the files.
She also claimed during testimony to never have downloaded the Kazaa software.
The jury will have to decide whether that doubt is enough to tip the scales in her favor. If it agrees it does, other accused swappers may be emboldened to take their own suits to court.
Not the End
The RIAA's campaign of lawsuits has, at times, caused it some public relations fallout, with elderly grandmothers and preteens caught up in some lawsuits. However, the group says its efforts have helped bring down the amount of digital music piracy taking place.
That claim is difficult to prove, given that the supposed decline in piracy has coincided with the rise of legitimate digital music outlets such as Apple's iTunes Music Store, and by some firms' measurements, just as many music files are being shared today as before the campaign began.
"The RIAA has sued thousands of people and gotten a ton of attention for their campaign, but file-sharing is even more popular than ever," Electronic Frontier Foundation Senior Staff Attorney Fred von Lohmann told the E-Commerce Times. That's especially true on college campuses, where the group has focused much of its legal attention recently.
"Continuing to pound away with lawsuits limits the chances for more creative and amicable solutions" such as broad licensing deals for universities to cover all of their networks with a flat-fee payment, von Lohmann added.
Still, the RIAA has not eased up on its campaign. In September, it sent more than 400 of what it calls "pre-lawsuit letters" to 22 college campuses around the country.
"The enormous damage compounded with every illegal download is alarming — thousands of regular, working class musicians and others out of work, stores shuttered, new bands never signed," said RIAA General Counsel Steven Marks. "Those who choose to ignore great legal services and the law by acquiring music the wrong way risk a federal lawsuit that could include thousands of dollars in penalties."
Suits and Ties
If nothing else, the trial has revealed much about the way the RIAA approaches its investigations and its lawsuits.
A third party firm, SafeNet, tracked the swapped files back to the IP address assigned to Thomas' modem and later to Thomas' hard drive. However, Thomas claims to have swapped hard drives right around the time of alleged piracy — though her story on when she swapped out the drive changed from the time she was deposed until the time she took the stand at trial, where she was called by the RIAA.
While the RIAA admits that more people are using file-sharing systems, it has succeeded in forcing some of the more popular P2P networks to shut down, only to have others spring up in their place. Kazaa settled with the RIAA in 2006, agreeing to help develop ways to foster legitimate music downloads in cooperation with the major labels.
"File-sharing is not going away," JupiterResearch analyst Mark Mulligan told the E-Commerce Times. If anything, entire generations of young computer users feel entitled to share their music via P2P networks and by trying to resist that behavior, the industry risks alienating them.
"The music [industry] needs to decide if it's going to embrace the enthusiasm young fans have for getting their music this way or risk losing them," he added.