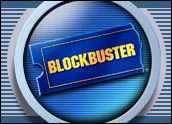 Blockbuster is working on a new movie-streaming and/or downloading service, according to an article in The Hollywood Reporter. The reported device apparently would let its customers view movies from a television set-top box similar to the Apple TV or an Xbox 360, both of which can download rentable movies.
Blockbuster has declined to comment specifically about any such service, however, and the company didn't respond to an E-Commerce Times inquiry about the report.
Staying in the Game
Such a service or something similar is almost a necessity if Blockbuster expects to remain a top player in home entertainment, according to Phil Leigh, a senior analyst for Inside Digital Media.
"I think it's clear that video entertainment is going to go online, and that it's a matter of survival for Blockbuster to be as involved in that as possible," he told the E-Commerce Times.
"I don't know that this is going to happen [Blockbuster developing a set-top box], but it wouldn't surprise me at all — particularly since Netflix has already started initiatives in this direction," he added.
Netflix already lets PC users who are on monthly rental agreements stream movies to their PCs for free, and Netflix is working on a set-top box device with consumer electronics giant LG.
Movielink the Key
A Blockbuster set-top box device would likely connect to Blockbuster's Movielink service, which Blockbuster acquired last year. Movielink was backed by major Hollywood studios, has access to a large library of titles and lets customers view films from their PCs.
The rumor holds particular weight because Blockbuster's customer-focused strategy is well-known — basically, to provide video content through whichever method the customer wants, whether it's with Blu-ray or standard DVDs, retail or rental, through Blockbuster stores, or by mail — or through new technologies.
Bricks in the Way
Unlike Netflix, which primarily offers just mail delivery and return, Blockbuster lets mail-order DVD rentals be returned to its physical store locations, as well as rented, of course. The problem with brick-and-mortar stores is that it competes most directly with on-demand video streaming or downloads. Why go to the store if you can simply click to order?
"The biggest problem they'll have is the business problem. They've got their existing brick and mortar business they need to protect, but I don't think they really have a choice," Leigh said, noting that Blockbuster must offer a video download service or risk the alternative, which is to trickle out of business like so many record stores already have in the face of online music downloads.
Still, the largest roadblock to online movie rentals is one imposed by Hollywood — a pesky rule that lets companies like Apple only offer the latest movies 30 days after they've been released on DVD. Once a viewer starts watching, they have 24 hours to view the movie before it disappears.
If Blockbuster could somehow circumvent those restrictions, the company could possibly release a flood online rental activity.