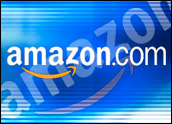 Amazon.com and its investors got an early holiday present when Amazon shares were moved into the S&P 500 index, sparking buying interest in the e-tailer's stock.
Amazon slid into the S&P 500 slot to take over the listing previously held by AT&T, which is being acquired by SBC Communications. SBC, which has already said it will take on the AT&T name, is already a member of the closely watched index.
The move is seen as a boost because managers of many mutual funds and other institution investment vehicles are required to hold a stake in all companies listed in the S&P, a broad basket of stocks representing numerous sectors.
Amazon shares rose more than 6 percent on the news to US$45.18 in early afternoon trading today. The stock will actually join the index at the close of trading on Friday.
Analysts said the move would lend additional credibility to the S&P index by giving it a strong representative of the e-commerce world, one of the oldest pure-play e-commerce companies and the second-largest e-tailer behind rival eBay.
Why Not Google?
Some stock watchers saw the move as a surprise because rising Internet star Google was not chosen to make its way into the index and because eBay, which is not in the list, has been a stronger performer in terms of consistent profits over time. But Amazon may be a good fit because of its high profile position in e-commerce, its expansion into new areas, such as search and Web services and support for other retailers, and because of the broad range of sales categories that it has expanded into after starting out as a books retailer.
The S&P 500 index, which debuted in 1957, attempts to reflect the overall U.S. economy, with key companies from various sectors included in the bundle of stocks. The most recent vacancy before the AT&T slot, for instance, was given to Lennare, a home-building company, a reflection of the importance of the housing boom to the U.S. economy in recent years.
S&P's Web site said the list is maintained by a team of stock and sector analysts who occasionally re-evaluate the mix of stocks to keep it current with economic changes.
Other technology firms in the S&P 500 include Adobe Systems, Advanced Micro Devices, EMC Corp., Microsoft, and Xerox.
Timely Boost
The move into the index comes as Amazon begins its most important eight-week stretch of the year, with much riding on the holiday shopping season. For the third quarter, Amazon posted strong sales, but said legal settlements and other costs ate into its profitability.
Forrester Research analyst Carrie Johnson noted that overall sales were not as strong in the third quarter, rising just 4 percent over the third quarter. But she and others expect a blow-out fourth quarter, with Amazon one of the main beneficiaries.
"Amazon has set the pace in terms of prompting shoppers with free shipping and other enticements," Johnson said. "The fourth quarter should be better, with sales rebounding as retailers like Amazon pull out the stops."