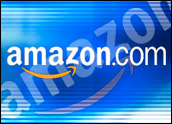 In what could be a preview of an expanded product menu featuring more items delivered digitally, Amazon.com has begun selling short stories and novel excerpts from well-known authors.
Amazon Shorts sell through their own storefront on Amazon for 49 cents each and will feature content from top authors that is not available in printed form. The service launches with a number of well-known authors on board, including medical thriller writer Robin Cook, mystery author Stuart Woods and novelist Danielle Steele, with excerpts from memoirs, one-act plays and short stories among the offerings.
Great Potential
Though analysts predict little if any impact to Amazon's bottom line from the service in the short run, the new offering could help pave the way for more direct-digital download offerings, which have long held the promise in the online commerce world of offering the highest margins possible because, unlike physical products, there is no inventory, no shipping and no handling involved.
The service may also be a welcome addition for authors and the publishing industry, which have had somewhat of a rocky relationship with Amazon over the years. Though Amazon sells millions of books, its decisions to allow used books to be sold alongside new editions — potentially taking royalty payments away from writers — has been widely panned by authors. Publishers, meanwhile, have long bemoaned the difficulty of selling shorter works, including short stories and shorter novels, in part because of the costs associated with publishing such tomes.
"Amazon Shorts will help authors find new readers and help readers find and discover authors they'll love," said Steve Kessel, Amazon.com's vice president of Digital Media. "We hope that by making short-form literature widely and easily available, Amazon.com can help to fuel a revival of this kind of work."
Optional Reading
In all, some 60 authors had works posted to the site as of its launch this morning. Users can choose one of three delivery options. Stories can be read immediately on the Amazon site or downloaded to a user's hard drive to be read later in portable document format (PDF) form. Or they can be e-mailed to a user directly.
No digital rights management software is needed to read the stories, which Amazon said will lead to a "frictionless viewing experience." The works are copyrighted, however, leaving open the possibility of infringing activities by users, such as photocopying the stories or sharing them digitally.
Shore Communications analyst Jean Bedord said the low sale price indicates the shorts are meant to be a marketing tool, one unlikely to generate significant income from either authors or Amazon. "The advertising and public relations aspects are much more valuable," said Bedord, whose firm works with content owners and tech firms on how to deliver content digitally.
Bedord sees Amazon helping the publishing industry to make strides toward a future where electronically delivered books are more prevalent. Shore Communications still believes that ebooks will eventually win out, outselling traditional books within several years.
"Amazon is valuable not only as a sales channel, but also for the profile of the typical reader/buyer, which is possible only in e-commerce channels," Bedord said. "Feedback to authors has long been a Holy Grail, and Amazon is effectively working with authors, as well as publishers, on multiple levels, a key to business success."
Not Exactly Best-Sellers Yet
Amazon and other online booksellers had high hopes for digital delivery of the printed word early in the Web's heyday. But rather than dramatically altering the publishing scene, e-books have sputtered into the literary marketplace, with consumer resistance to having to buy e-book readers and an apparent reluctance to give up on the printed book.
Still, with the shorts feature, Amazon may be able to accelerate an inevitable shift toward more digital delivery of a range of content. Consumers are increasingly comfortable with such buys thanks largely to the digital music revolution, which many analysts say has cleared the way for digital delivery of full-length video and other content now sold in packaged form.
Digital River CEO Joel Ronning told the E-Commerce Times that software publishers and others in particular are eager to move more sales into the purely electronic format.
"Everyone wants to do away with packaged software and just be dealing with direct download to customers," Ronning said. "It takes care of returns, shipping and other issues and that helps the bottom line. It's the promise of the Internet, to be able to deliver products without ever touching them."
Many analysts believe Amazon will soon unveil additional digital product offerings, with many predicting a digital music service offering direct download of songs will be unveiled, possibly in time for the holiday shopping season.