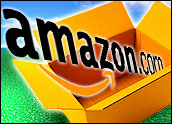 Amazon.com has agreed to pay US$40 million to settle a year-old patent infringement lawsuit just days before the case was set to go to trial.
Amazon will make the one-time payment to Soverain Software of Chicago. In exchange, Soverain agreed to drop all claims that Amazon violated five of its "core e-commerce technology" patents covering things such as controlling server access and monitoring sales systems.
The settlement also makes Amazon a non-exclusive licensee of some of Soverain's technology.
E-Commerce Processing
Soverain sued Amazon and clothing company Gap early in 2004, saying both violated a handful of the patents it holds for controlling how e-commerce takes place in back-end systems. Gap and Soverain had previously reached an undisclosed settlement as well.
Soverain traces its history to the 1990s and later bought technology from Open Market that is now the basis of its Transact platform of e-commerce infrastructure.
Amazon disclosed the settlement payout in a filing with the Securities and Exchange Commission (SEC) and said that it would take a charge in its third quarter to make the payment. A trial in the case was set to begin Monday in Texas.
As is typical with such settlements, Amazon did not acknowledge any wrongdoing, but instead said it moved to settle in order to avoid a potentially lengthy and costly litigation.
The patents involved deal with common e-commerce processing issues. For instance, one allows e-commerce merchants to recognize a customer when he or she makes multiple inquiries on a Web site during a shopping session or when that person makes a return visit at a later time. Also included in the suit was a patented sales system involving a virtual "shopping cart," through which expedited purchases can be made. Others deal with network communications issues, such as how packets of data are handled.
Familiar Territory
Soverain's Web site says the company's Transact platform has about 3,000 users worldwide. In addition to its Chicago headquarters, the company maintains development and support operations in Burlington, Mass., and Hyderabad, India.
Patent suits are nothing new for Amazon, or for e-commerce companies in general. Amazon fought one of the most famous online patent disputes over its one-click technology, eventually prevailing in an epic battle with Barnes and Noble over the fast checkout approach.
EBay likewise has faced its share of suits claiming pilfered technology, most notably over the technology that enables auction items to be sold immediately through the feature it calls "buy it now." That case has been a see-saw battle, with the plaintiff winning a sizable judgment but eBay scoring a victory on appeal.
Intellectual property attorneys say such suits are almost inevitable given how quickly the Internet evolved, with the chances good that software engineers in different parts of the country or the world were working on similar technology at around the same time. Meanwhile, the level of review that many patents received, especially during the height of the tech boom in the 1990s, has also been called into question.
Eyes on the Bottom Line
"You had so much technology being developed and presented to the patent office in such a short time that there is enormous potential for dispute and confusion," attorney Steven Frank of Goodwin Proctor in Boston, Mass., said. Major technology companies typically build some exposure to IP lawsuits into their forecasts, considering it a part of the territory, he added.
That can be further complicated when patent decisions are overturned through an appeal process, as happened recently when the patent office decided that a patent granted to MercExchange, which has sued eBay successfully, might have been granted incorrectly.
Analysts said Amazon is wise to minimize distractions such as costly suits at a time when it is struggling to be consistently profitable. Though Amazon continues to be one of the most dominant e-commerce players in the consumer space alongside eBay, its penchant for discounts, such as its free shipping promotions, has hurt its ability to stay in the black.
Meanwhile, one of the biggest questions surrounding Amazon today — the e-tailer recently marked its 10th anniversary — is when it will formally launch its own digital music product. Many observers believe such a move could happen in a matter of weeks. Amazon has been surveying its customers about their music preferences and recently posted a job listing for a music program director.