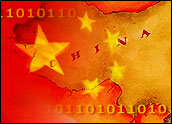 Yahoo has said it will invest US$1 billion in China-based e-commerce company Alibaba.com, targeting a market exploding with growth and ripe with new opportunities.
The terms of the deal, which Yahoo billed as a long-term strategic partnership, call for Alibaba to take over Yahoo China and for Yahoo to invest another $1 billion in cash. In exchange, Yahoo will take a 40 percent equity stake in Alibaba and have 35 percent of all voting shares.
With the Yahoo assets involved, the deal has a total value of around $4 billion, the companies said.
Long-Term Commitment
The move creates an online powerhouse in China and one that might delve deeper into the business-to-business e-commerce segment, while also focusing on consumer shopping online as well as online payments through the AliPay system — similar to eBay's PayPal — and search. The combined company will bear the Alibaba name, but some of the service offerings will continue to sport the Yahoo brand.
"Yahoo's investment underscores our long-term commitment to the Chinese market. We believe the combination of Yahoo and Alibaba is the best approach for Yahoo to win in this region," Yahoo CEO Terry Semel said. The combined company will be one of the few in China that has a hand in a variety of fast-growing segments, he added.
"In China, Alibaba.com is winning in B2B, winning in C2C, winning in online payments and now we're going to win in search," Alibaba CEO Jack Ma said.
The deal comes at a time when interest in the Internet opportunities in China has been driven to new heights, most recently by the strong initial public offering debut of Baidu.com, a search engine that has been billed as the Google of China. The company's U.S. stock debut only served to reinforce that comparison, with the stock tripling in value on the first day.
Business Strength in View
Yahoo co-founder Jerry Yang will get a seat on the board of directors of the new company, as will a representative from Softbank, a major investor in Yahoo.
"We have always had a long-term commitment to China and even more so to the development of its Internet industry," Yang said in a statement.
Yahoo indicated that the business-to-business segment was a key part of the deal, noting that some 100,000 businesses in China currently pay between $250 and $10,000 per year for online services from Alibaba. Yahoo cited Chinese government statistics predicting an annual growth rate of 95 percent for B2B online commerce from 2004 to 2007.
Yahoo China is already a major player in China, ranking second in search behind Baidu, thanks to a specialized search acquisition last year of a firm called 3721.
However, Yahoo is just one of many companies angling for a better position in a market with almost unprecedented growth potential, given that just a fraction of China's vast population is now using the Internet and considering commitments to build out high-speed infrastructure from the Chinese government.
Kelsey Group Managing Editor Greg Sterling told the E-Commerce Times that one of the big prizes might be Alibaba's strength in the small and medium enterprise segment of the Chinese economy, with its international directory of businesses particularly strong in that market, which is "prized the world over," he said.
He also noted that on the same day that Yahoo ended weeks of speculation by confirming the Alibaba investment, Google announced keyword advertising re-seller agreements with three Chinese firms: China Enterprise, China Source and Hotsales. Those re-seller efforts are expected to target the same mid-sized business market segment.
Incumbent Advantage?
Google has a larger push into China on its plate, one that has become a source of controversy, as the executive who is heading the search giant's efforts there is a former Microsoft employee whose departure and hiring at Google is the subject of dueling lawsuits between the two tech giants. Google has said it plans to establish a research and development facility in China.
The rapid growth of Baidu.com into the search leader in China has many analysts believing that it will dominate the space in the long run. However, most see room for specialists with strong technology and a foothold in the region to grab a share of what will likely be a growing market for years to comes.
In addition to competing with Baidu, Google also owns a small stake in the company. In fact, investing in incumbent companies is often seen as a quick and relatively easy way for companies in the U.S. and other countries to grab a stake in the Chinese economic boom.
The Yahoo move also ensures a battle for control of the Chinese online auction market. EBay has been strong in China and by some accounts has a hand in as much as 65 percent of all online auction sales. It's major competitor is TaoBao, which is owned by Alibaba.