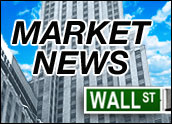 Stocks were unable to muster much of a bounce today off the lows set at the end of last week as investors fretted about what government economic reports to come out later this week would suggest about whether corporate profit growth will slow in coming months.
The Dow moved only a fraction of a point lower on the day, closing down .22 at 9,961.92.
The Nasdaq shed 10 points, to 1,839.02, and the S&P 500 lost 2.13 points to close at 1,084.07, the lowest that index has closed since the start of 2004.
The flat session left the Nasdaq stuck at a 10-month low and the Dow treading water below the 10,000 mark for the first time in two months.
Trend Spotting
Even good earnings news from a high-profile Dow component couldnt budge investors. American Express beat second-quarter profit targets and gained 1.2 percent on the day, but failed to share its coattails with many other stocks.
Stock investors may be holding back in order to be ready to act when economic data begins to be released this and next week.
The first in the upcoming batch of government and non-government reports came in stronger than expected with existing home sales up 2.1 percent in June to 6.95 million, according to the National Association of Realtors. Forecasters had expected a decline.
GDP Report
The government data releases will continue this week, with an initial estimate of gross domestic product (GDP) growth due Friday.
Also closely watched will be the unemployment figures for July, which are due out a week from Friday.
Strong job growth over the course of the spring slowed considerably during June, but analysts argue that more data is needed to determine if the trend will continue.