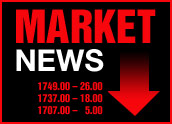 Blame it on Microsoft. By now, the software giant must be used to being accused of causing every bad thing that happens, and Friday it found itself squarely on the hook for a dismal day on Wall Street that wrapped up a week most investors are eager to forget.
Microsoft, whose Thursday earnings report and forecast fell short of most expectations, had plenty of help from Dow component Coca-Cola, which saw shares 8 percent on its earnings outlook, and Nasdaq brethren Amazon.com.
Rapid Growth in Corporate Profits
All helped convince investors that the rapid recent growth in corporate profits may not be sustainable.
And that in turn led to a dark day, as the Dow closed below the 10,000 level, dropping 88.11 points to end the week at 9,962.22, its lowest close in two months.
The Nasdaq shed 39.97 — more than 2 percent — and closed at 1,849.09, marking the lowest it has been at the end of a session since last October.
The S&P 500 tumbled 10.63 points to end the session and the week at 1,086.21.
Bulls Running – Away
The week offered little for those hoping for continued rapid economic growth to hang their hats on.
The private Conference Board said its leading indicators showed a slowdown and even lower jobless claims for last week was being attributed to statistical anomalies rather than real job gains.
Meanwhile, oil prices remain stuck above US$41 as supply concerns have been ratcheted higher as the ability of Russia to continue to export oil is now in question with Yukos teetering on the brink of bankruptcy.
Midweek comments from Federal Reserve Chairman Alan Greenspan, who said the recovery seemed to be continuing as modest but sustainable pace — commented that helped cause a short-lived and modest stock rally which caused a modest rally in stocks — couldn't turn back the overwhelmingly bearish sentiment among investors.