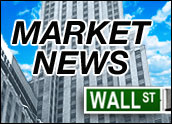 Oil worries eased slightly Thursday, but uneven corporate earnings and outlooks that have yet to impress weighed on stocks as the market awaited news from another tech heavyweight.
IBM was due to report its second-quarter earnings late Thursday.
Earlier in the day, the decision by OPEC to go ahead with a planned output increase due to kick in on August 1st without convening a meeting ahead of time helped cut oil prices sharply.
After rising to above US$41 on some exchanges late Wednesday, oil dropped more than $1.50 in New York trading on the OPEC news.
Growing Stack of Earnings
That left investors to mull over the growing stack of corporate earnings reports.
While many have been positive and some have been great, by and large companies are providing little reason for optimism heading into the second half of the year.
Intel started by saying profits would be lower, a warning matched Thursday by Nokia, which said it would have to cut the prices of its cell phone handsets to guard against losing market share.
PPI, Output Data Released
The Dow dropped 45.64 points to close at 10,163.16, the Nasdaq ended the day at 1,912.71, down just 2.17 points and the S&P 500 fell 4.78 to end the session at 1,106.69.
As in recent days, volume was light on the exchange, with government economic data releases having little impact on trading.
Producer Price Index
Among the numbers released Thursday was the Producer Price Index (PPI), which showed little inflation at the wholesale level in June.
Overall, wholesale prices fell 0.3 percent, although the core index, which strips out food and energy, showed a 0.2 percent increase.
More troubling may be the industrial output report, which showed a 0.3 percent drop in the amount of activity at the nation's factories, mines at utilities, offering the latest hint that the economy has cooled from its torrid growth pace of earlier this year.