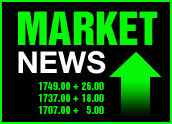 Advanced Micro Devices, the second-largest maker of computer chips, followed the leader Wednesday by posting an impressive second-quarter earnings report but then deflating the optimism balloon with a measured outlook for the next three months.
Releasing results one day after market leader Intel, AMD said it posted its best sales quarter ever, ringing up revenue of US$1.26 billion, up 96 percent over last year's levels and slightly ahead of analyst estimates. Net earnings came in at $32 million, or 9 cents a share, compared to a loss of $140 million in the same quarter last year.
The chipmaker said it expected "moderate" sales growth in the current quarter, but went out of its way to hedge against unexpected softness in the economy or other factors. "Economic and industry conditions remain uncertain," the company said in a statement.
CEO Hector Ruiz said the third straight profitable quarter represented the realization of the "new AMD" that has turned its focus to customer satisfaction, innovation and "operational flexibility."
Control of Destiny
Like its rival, Sunnyvale, California-based AMD said flash chip sales helped make the quarter a success, with the flash group posting record sales of $673 million and faster-growing profits than the computational products group, which makes PC, server and notebook chips. Sales in that group rose to $406 million while profits were lower than the previous quarter.
Much of AMD's flash sales come through its Spansion LLC venture with Fujitsu Ltd.
Comparisons between AMD and Intel are inevitable. AMD has long been a distant second place to its much larger rival, but last year grabbed the lead in the flash chip market. The companies often have battled on price and other factors.
Ruiz suggested in a conference call that in recent quarters AMD has "methodically positioned [itself] to be more in control of [its] destiny" and less dependent on external market forces and on back-and-forth market share grabs with Intel and others.
Head to Head
This spring, AMD outsold Intel in the retail desktop market in North America, a surprising development given the distance that once existed between the two biggest chipmakers, Current Analysis analyst Toni Duboise said.
Overall, Intel still enjoys a 61 percent market share to 37 percent for AMD, but with Hewlett Packard and Sun recently agreeing to start making servers and computers with AMD's Athlon 64 chips inside, AMD was able to outsell Intel for the first time in five years, Duboise told E-Commerce Times.
"It marked the first time in a long time that AMD was able to mount a challenge to Intel on that kind of scale," Duboise said.
Another Brick in the Wall
AMD's earnings added to the body of evidence that analysts are sifting through to judge the strength of the recovery and how much more growth the tech sector can expect for the rest of 2004 and into next year.
Intel and AMD laid the groundwork while Apple Computer and Juniper Networks both helped paint a fairly upbeat picture of tech activity over the past few months. Juniper handily beat Wall Street expectations, and Apple said profits, on the strength of iPod sales, tripled as compared to a year ago.
In fact, the recent run of strong earnings has been so good that some analysts speculate that companies will try to talk down earnings expectations for coming quarters, since they will be among the first to involve comparisons with the period of 2003 when the recovery began to take hold.
Public companies have had favorable earnings comparisons for some time, but the bar is getting higher all the time and companies may fall short even though they continue to have customers wiling and able to buy more than in the past.
"As usual, the expectations for the recovery got ahead of the real thing," Gartner analyst Martin Reynolds told E-Commerce Times. "Tech spending is still growing, but probably not at the pace that is guaranteed to put a smile on the faces of investors," he said.