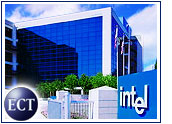 Intel posted healthy second-quarter profits on Tuesday, but concerns about the company's revenue growth, growing and shrinking profit margins quickly overshadowed the strong performance.
Intel said profit nearly doubled in the quarter that ended in June, rising 96 percent to US$1.76 billion compared to $896 million a year ago. Sales for the quarter were $8.05 billion, up from $6.82 billion a year ago. Profit, which included a $38 million charge for a recall of some of Intel's Grantsdale chip, was in line with expectations and revenue just slightly off what analysts had been expecting.
The numbers did little to clear up confusion or settle debates over whether the highly cyclical semiconductor business has seen the peak of the current cycle or whether more growth lies ahead.
CEO Craig Barrett said Intel was lifted by strong sales of its flash memory products, especially to cell phone and mobile device makers. The rest of the business followed past seasonal trends, Barrett said, with the quarter offering few surprises.
Recovery Progressing
CFO Andy Bryant, meanwhile, attempted to lower expectations, noting on a conference call that year-over-year comparisons will become more difficult as the recovery progresses. "Growth rates of the last year will inevitably subside somewhat," Byrant said.
Investors and analysts also focused on Intel's warning that gross profit margins would be lower going forward and word that inventories grew some 15 percent in the quarter, a possible sign that demand has not met the expectations that Intel used to plan manufacturing capacity.
The number-one chipmaker's stock fell more than 9 percent in morning trading Wednesday to $23.72. The stock has lost around a quarter of its value since hitting a high of $34.60 earlier this year, mostly on fears that the tech recovery was petering out.
Between the Lines
Santa Clara, California-based Intel said overseas sales remain strong. The company cited the Asia Pacific region, and China in particular, as markets in which growth looks to be sustainable.
But Intel also lowered its gross margin percentage estimate from 62 to 60 percent, a reflection of the fact that demand is heavier for lower-margin products, such as flash memory, chipsets and motherboards.
Most analysts say Intel and other chipmakers are still in the midst of a decent run of growth. The Semiconductor Industry Association (SIA), for example, has predicted 20 percent growth for all chipmakers for all of 2004, and recent monthly sales reports remain upbeat.
"The industry fundamentals still look pretty good," SIA president George Scalise told the E-Commerce Times. PC makers and others are "managing inventories prudently," he added, in an attempt to avoid being caught short of chips.
Scalise also said that Intel's China growth matches the overall industry trend, one that will likely only accelerate in the wake of that country's decision to end a stiff tariff on foreign-made chips.
Coming into Focus
Whether Intel's results help mark the start of a more measured period of growth for tech companies and their stocks will become clearer by the end of the week after another batch of technology firms posts earnings. Intel's largest competitor, AMD, is due to post results today, as will Apple computer. IBM follows with earnings news on Thursday.
Despite a rash of recent warnings from companies who deal primarily with enterprises, Intel said it has yet to see a slowdown, although COO Paul Otellini indicated Intel was tracking the performance of companies doing business with enterprises closely. "The warnings give cause for concern," he said.
Intel admitted it might have pushed production levels too high, extending its window for using up inventories to 89 days from 71 days in the previous quarter. Intel said it would back off some factories in the third quarter to help gradually lower inventories. The company also said chip prices would not rise as quickly as in the past.
Gartner analyst Martin Reynolds said that while shrinking margins might put pressure on Intel to squeeze further savings out of its manufacturing operations, it was important not to lose sight of the bigger picture, which seems to show growing spending by corporations on information technology.
"Quarterly comparisons don't always tell the story, or not the whole story," Reynolds told the E-Commerce Times. He said that Intel's forward-looking guidance calls for normal seasonal gains that could hike sales as much as 10 percent over the second quarter. That is in line with most predictions that "overall spending is up."