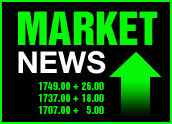 Stocks closed out the week with a mild rebound as some high profile earnings reports had better-than-expected news.
General Electric beat its own forecasts for second-quarter earnings. Earnings at the company rose 13 percent with future orders rising 29 percent, prompting CEO Jeff Immelt to say the economy is "the best we've seen in years."
That declaration — which flies in the face of a series of recent profit warnings and some shaky economic data — helped lift the Dow, while enterprise software maker SAP gave the tech sector a needed lift by posting results that beat second-quarter estimates.
Markets Up
The Dow finished up 41.66 points on the session, ending the week at 10,213.22. The Nasdaq climbed 11.01 points to 1,946.33 and the S&P 500 gained 3.70 to 1,112.81.
Even the upbeat earnings reports probably won't dispel investor concern that the economic recovery has downshifted into a lower gear, with more modest but steady growth on the horizon.
The picture will become clearer next week, when a slew of companies, including tech bellwethers Intel and Juniper Networks, report earnings.
Inventories Grow
The Commerce Department said that companies added to inventories in May as they ramped up to meet higher demand.
Wholesale stockpiles rose 1.2 percent in May, ahead of forecast, and some economists said a desire to be prepared for stronger sales may help drive economic growth.
Oil prices are likely still weighing on stocks, as the impact of high fuel costs is seen as a drag on consumer spending, which helped get the recovery going.
Crude prices again remained above $40 per barrel on Friday, less than two weeks after dropping as low as $36.
The spike is being attributed to continued demand from the United States despite additional output from OPEC and other sources, which in turn leaves little room for disruption of supply before major price jumps occur.