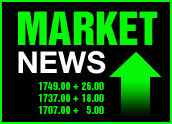 Stocks narrowly managed to halt a three-day Wall Street losing streak that began before the long weekend, as a modest rebound in technology shares helped buoy markets Wednesday.
The session ended with investors looking ahead to the kickoff of earnings season as Alcoa and Yahoo both were slated to release results after the closing bell.
Expectations were that both companies would post strong results for the second quarter, but recent warnings from technology companies and weakness in some economic data had some worried about what tone they would take in forecasting results for the rest of the year.
Managing Modest Gains
Stocks managed just modest gains.
The Dow closed up 20.95 to 10,240.29, while the Nasdaq gained 2.65 to 1,966.08 and the S&P 500 moved higher by 2.12 points to 1,118.33.
The losing streak had been costly, shaving 216 points off Dow since last Friday and pushing both major indices to one-month lows by the close of trading Tuesday.
Higher Oil Seen
Reversing an earlier forecast, the U.S. Energy Information Administration predicted oil prices would remain high during the next 18 months.
The agency now estimates oil will average US$37 a barrel during that time span, far higher than its forecast from last month, which called for $33 oil prices.
Oil futures were trading slightly lower Wednesday, a day before the release of government data on current oil supplies, a weekly report that often moves the oil futures market.
Dollar Suffering
The U.S. dollar, meanwhile, suffered as investors continued to bet against interest rates rising quickly in coming months, dropping the dollar to three-month lows against the Euro and the English pound.
Bond prices were also slightly lower on the same expectations that slower growth would mean low interest rates for the foreseeable future.