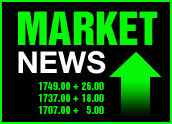 A surge in consumer confidence helped pushed stocks higher Tuesday as investors were in a buying mood despite tomorrow's looming decision from the Federal Reserve on interest rates.
All major indices finished higher on the day, although trading was a bit lighter than normal as institutional investors were said to be holding tight until the Fed's decision, which is due at 2:15 PM Eastern time on Wednesday.
Widespread consensus appears to be that the rate will be hiked a quarter point.
The Dow finished higher by 56.34 points, closing at 10,413.43. The Nasdaq closed at 2,043.93, gaining 15.11 on the day. The S&P 500 was up 2.88 to 1,136.23.
The Conference Board said consumer confidence reached a two-year high of 101.9 in June, up from 93.1 in May and ahead of most forecasts.
Rising Tide, Falling Oil
The consumer sentiment numbers reflected a belief that the economy would continue to grow and add more jobs.
That upbeat attitude is likely to be fueled by declines in gasoline and oil prices.
Crude oil reached a two-month low amid confidence that the situation in Iraq will stabilize after the handoff of power from the United States.
The markets rose despite a rough day for some well-known stocks.
Target's announcement that June sales would track at the low end of earlier forecasts hurt the retail sector and came just a day after a similar warning from Wal-Mart.
The home-building sector also took a hit when financial firm Washington Mutual lowered its outlook for the whole year, saying that rising interest rates would hurt its lucrative mortgage business.
Bolder Bonds
U.S. Treasuries took the recent run of good economic news on the chin, with government bonds marking their largest one-day drop in more than a month on Monday.
However, bonds rose in late trading Tuesday in activity that appeared to be driven by investor desire to be prepared for any outcome from the Fed meeting.