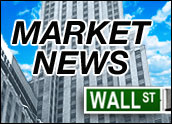 Stocks ended Monday mixed, with the Dow posting meager gains.
Even the Midas touch of Google — which announced it would seek listing on the Nasdaq when it goes public later this year — was unable to lift the tech-heavy index out of the red.
Hurting the Nasdaq was a downgrade of the chip sector by Merrill Lynch, a sign that many took of impending weakness in the tech sector in general.
Intel is due to report earnings this week and the brokerage house speculated that the highly cyclical chip industry might be nearing the end of a strong growth spurt.
The Dow closed up exactly 25 points to 10,238.22, while the Nasdaq slipped 9.41 points to end the session at 1,936.92. The S&P joined the Dow in turning in an up day, gaining 1.54 points to 1,114.35.
Google Bids for Nasdaq
Google said in a filing with the Securities and Exchange Commission that it would seek to become a member of the Nasdaq exchange when it pulls off its expected US$2.7 billion IPO.
Google chose the tech-laden board over the New York Stock Exchange, which was openly courting the search engine company.
Heavy Oil
Oil price concerns continued to weigh on stocks as crude futures hit a five-week high in New York trading on Monday.
Driving prices higher was news that refineries in the U.S. are working at their highest production capacity in 13 months to satisfy higher demand for gasoline.
Boosted output from OPEC nations starting July 1st was supposed to ease oil prices, but many investors now appear to believe that the supply remains tight and that even a minor disruption could cause havoc.
Elsewhere, eyes were on upcoming economic data, including a report Wednesday on June retail sales.
According to reports from major retailers such as Wal-Mart and Target, as well as durable goods sellers such as automobile makers, most predictions are for a weak outlook.