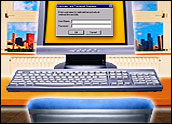 Companies jostling for top billing in the crowded Internet search space are spending more and more money on pay-per-click sites. In addition to investing in search engine advertising, many companies are delving into search engine optimization to build the volume of traffic to their sites.
By 2005, about 35 percent of all online advertising spending will be earmarked for paid search, according to eMarketer. This amount will total nearly US$3 billion by the end of next year, up from $2.5 billion this year and a mere $927 million in 2002, the research firm found. And by 2007, US Bancorp Piper Jaffray predicts online search will be a $7 billion market.
Catherine Seda, who heads Thousand Oaks, California-based Seda Communication, has been involved in helping corporations leverage the Internet's marketing strengths for nine years. Before then, she was a marketing executive at a Web agency, where she helped clients develop online promotions such as search engine optimization, pay-per-click media buys, opt-in e-mail, banner advertising, link popularity campaigns, custom sweepstakes and return-on-investment tracking.
Seda offers workshops and on-site training for executives and divisions seeking to begin or improve search engine marketing, and she manages enterprises' search engine marketing campaigns as well.
The E-Commerce Times recently had the opportunity to speak with Seda about what companies need to know about tapping search engine marketing to boost their revenue and image.
E-Commerce Times: How did you get involved in the area of search engine optimization and pay-per-click advertising?
Seda: Timing and luck, I'm sure. I was finishing up college — UC San Diego — in '94, and fortunately we had a couple of professors who were really forward-thinking. We had a class on the Internet: We had to build a Web site, do FTP access, do library systems, and then I wound up on two consulting projects — one in academia and then one in France. It was timing to be on the forefront, coming from academia. The Internet hadn't taken off for many businesses yet in 1994.
When I came back from France, I worked for a Web agency, so I could work on a lot of different types of accounts and see what the Internet really did for different industries. That was fantastic. And I worked for a TV agency, and now I'm on my own.
ECT: How did you further hone in on the search engine marketing area?
Seda: The agency I was with in La Jolla (California) started offering Internet marketing for free. That was just one of their services. We had Web site maintenance, where we did updates for the Web site. We included free search engine submission, free link checks, all kinds of things, until we could finally transition it into a paying model — saying, "The Web site isn't marketing. That's your store. Marketing needs to be a separate, fee-based service."
I grew the online promotions department — banner ads, search engine marketing — [which] we had to outsource for a while until we started bringing in our own programmers to do it. It was a fascinating time to be in the industry, especially at an agency, during '98, '99, 2000 and then 2001.
ECT: I recall in those days people thinking the Internet was great, but were questioning how anyone would make money with it.
Seda: It was interesting because [the agency] was small — we started with five employees and got up to 21 — and all of their clients were traditional brick-and-mortar companies, which I think helped us, especially through the dot-com bust. The traditional companies were, of course, very skeptical about the Internet, so we were forced to do a lot with tracking systems.
If we couldn't track what we were doing, the companies weren't going to throw money at it. We had to be able to track leads and track sales very early on, when a lot of big agencies weren't doing that. The print agencies certainly weren't doing that. It was good time, good place, good people and good technology.
ECT: Today, as you speak to companies and do consulting, what are some of the things you discover that you're not doing that they should be doing?
Seda: There are two levels. There are still some medium-size companies that are not aware that search engine optimization and search engine advertising are two completely separate animals. They're part of the same related program, but it's very different getting to the top of the search engine through each program.
Optimization involves tweaking the Web site design to show up higher in the search engines, and that's the only way you can influence the rankings. On the pay-per-click side, the paid listing side, it's very easy to become number one for any keyword listing you want, but that involves a whole different range of tools and needing to watch the budget because it's more of an auction. Advertisers go up and bid against each other to be number one. You get instant results, but it also can be very costly, and you can bleed a lot of money quickly.
ECT: So, how do you suggest clients address both of these search engine programs?
Seda: They need to have a separate strategy for both. Because most traditional companies have an idea of what their cost-per-lead and cost-per-sale is through other marketing channels — and you can track the results, especially the paid listings, but even search optimization to a point — it's important to apply the metrics they have in other marketing channels to search engine marketing, to make search engine marketing accountable for the investment.
I'm noticing at the conferences I speak at, especially the search engine conferences, it's now almost a 50/50 split as to who attends the conferences: It's half in-house search engine marketers and half search engine professionals. When I started, even a year or two ago, most of us who attended were search engine marketing professionals, and companies were doing a lot more outsourcing.
Now, there are so many tools available, they're hiring people in-house to manage search engine marketing because they probably want more control over the information, more control over the process. They have to make sure they have people dedicated to this, so allocation of resources is important for companies to figure out. Should they outsource, or should they keep part of these programs in-house?
ECT: When enterprises hire someone in-house, what background might that person have?
Seda: There are still quite a few job postings looking for search engine marketers. On Monster.com, if you look under "search engine marketing," there are some search engine professionals that are looking for more employees, but there are a lot of companies that want their own in-house marketers. Some of these people might be coming from a search engine firm or they were already in-house marketers or maybe they were outside consultants, moving more into the industry and becoming in-house.
ECT: What are some of the skills they have, generally?
Seda: Usually, an in-house person has to be very educated in the strategy and the tools of how to create an overall campaign and how to track the results. Then the search engine marketer might tap into a couple of other people within the company — pull in programmers to do the changes on the Web site or work with the e-commerce person to pull the statistics to find out where the ROI numbers are.
ECT: Do you have any anecdotal or specific data on how search engine optimization or search engine advertising has helped companies boost ROI?
Seda: I wish I had more comprehensive stats. I can rattle off a couple of case studies. I don't know if I can share the company names. But one fitness manufacturer that I worked on spent $800 on the pay-per-placement search engines, and they made $40,000 in one month. That's a huge return on investment.
Another client of mine [is] managing her own search engine paid listing and is spending between $2,000 and $4,000 per month and generating between $25,000 and $40,000 per month.
Those aren't even the large Fortune 500 companies. I can't talk about a lot of them. Search engine marketing can certainly have a good lift on current revenue, but it can be especially effective in moving into new product markets. It's hard to get people to share information because it's so effective. Nobody wants their competitors to know and then start bidding, trying to outrank them in the search engines.
ECT: How has search engine marketing changed in the last couple of years with the rise of Google?
Seda: Google is a hit with both consumers and search engine marketers. The company has done an outstanding job blending natural listings with paid listings in its search results. Because the results in both areas are highly relevant, a growing number of consumers continue to use Google and buy from the sites listed there. That, of course, means search engine marketers are fighting to get their sites, or their clients' sites, top positions in Google.
The natural listings take up the largest space on Google's search results pages, and the rankings in this area can be influenced by optimizing your Web site for relevant keywords.
Google's AdWords paid listings, identified by the "Sponsored Links" header, may appear on America Online, The New York Times, EarthLink and other sites. Advertisers bid on the keywords to appear as a top paid listing.
ECT: How about national versus regional?
Seda: Within the last six months, both Google and Overture — [which] is in beta, I think — [have launched] regional targeting for their ads. You can set up a campaign on Google by still [using a] general keyword, such as "catering," but you can specify the state and the city [where] you want your ads shown. This is just phenomenal to have that deep level of targeting.
ECT: Is that also less expensive?
Seda: Yes. Because you also want people qualified, even though you want to put very targeted keywords in your ad copy. For example, if you're regional, you want to put where you're located or where you do business for the pay placement because you don't want people clicking if they can't ever be your customers. If you can make sure only people who are in your market can see your ad, that's very helpful. It can help prevent additional waste.
ECT: Do you recommend companies do both the optimization and advertising together?
Seda: Absolutely. The pay-per-click side, the advertising side, can still be used long-term, but it's a great short-term solution for instant traffic and sales. Search engine optimization is definitely a long-term strategy because it doesn't happen overnight; it can take weeks or months to improve your rankings for keywords.
However, [in] several of the programs, you can get free rankings in the search engine — or, if you submit your site to these search engines, they have a set cost-per-click fee. If you show up [as] number one, you might only pay 25 cents per click. "Methothelioma," in it's heyday, was running $50 per click on Overture. It's a cancer caused by asbestos, and law firms were bidding on the term because they wanted to represent people in a lawsuit.
ECT: As a rule, is pay-per-click pricing going up?
Seda: Oh, yes. The minimum bid tends to be either 5 cents or 10 cents per click, and you outbid your competitors by paying a penny above the next competitor. You might be number one on a keyword and it might cost you 10 cents, but then someone else could come along and say, "Well, I'm willing to bid 11 cents per click," and they move up into the number one position. I think it's getting more and more difficult to find keywords at the minimum bid. Keywords might be 25 cents, but I've often bought keywords that were several dollars per click or over a dollar for a click.
That's why it's very important for any company [to] have the metrics down, so they know what the click-per-sale conversion rates [are] — when someone comes to the Web site, what percentage will buy, what are they trying to get as their cost-per-order goal. Once they have those, they will be able to start a much more effective campaign right off the bat. It's a little scary to go and spend money on marketing, then say, "Great, I think that's working!" You need tracking.
ECT: What are some winning tactics for increasing sales via search engine marketing?
Seda: It's important for companies to have both search engine optimization (SEO) and paid listing campaigns as part of [their] marketing strategy. Each type of campaign requires its own process and management tools.
[Here are some] winning tactics for securing a top ranking via SEO: Create relevant content for each page of your site you want ranked in the natural search results. Each page should focus on a small set of keywords that support the overall keyword theme of the site. Get inbound links from other non-competing, content-relevant Web sites that already rank well for the keywords you want. Submit your site to the search engines manually. An inclusion fee may be required per URL submitted or [on] a per-click basis. Yahoo, Inktomi, LookSmart and Teoma offer inclusion programs.
Winning tactics for managing a profitable paid listing campaign [include]: Choose keywords that are targeted, yet popular (you can check the popularity of the phrases you wish to buy with Overture's free Search Term Suggestion Tool). Launch test campaigns on several pay-for-placement search engines, such as Overture, Google AdWords, FindWhat.com and Kanoodle.com. Create various ad listings for each keyword or keyword group and keep the highest-performing ones. Send potential customers to specific landing pages within your site, don't dump them off at the homepage. Test, evaluate, refine — then repeat this process monthly.
ECT: Can you give examples of some companies that have done an exceptional job of search engine marketing?
Seda: Any site that appears in a top 10 position for relevant keywords.
For highly competitive keyword phrases, companies that have landed top positions in the search results have made a dedicated effort to get there. Those that are doing an exceptional job use tracking tools to evaluate and improve the results of the campaign components: keywords, list copy and the associated landing pages. Successful companies are achieving a higher volume of sales at a lower cost per customer.
There are some very inexpensive tracking tools for smaller businesses these days. They can move faster and get some keywords big companies aren't going after yet, and fortunately there are tracking tools so smaller companies can play in this space.
ECT: Is it worth a company's while to go to a less well-known search engine, or should it bite the bullet and pay more for a top-tier search engine like Google or Overture?
Seda: I recommend that large and small companies start with the big players. It might be a little more expensive; however, they still tend to be very profitable, and they give you good data to evaluate. If there's not enough traffic on your keywords from those two search engines — Google and Overture — there's no point trying the second-tier search engines because they don't have the traffic that the big guys do. Also, you'll have a better idea of what the goals are for refining the campaigns.
At the bigger companies, if you get enough traffic, absolutely add additional search engines because the costs do tend to be less expensive on the second-tier players. You can, on second-tier players, still get bids at 10 cents per click. If you're bidding on something huge like real estate or insurance, car insurance, it might be worth it. If you're trying to bid on "New York bagel shop," there aren't going to be enough people looking at you.