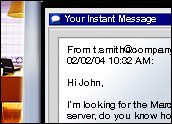 Instant messaging, a staple of teenage life, is growing up and entering the workplace. Yet companies whose employees arbitrarily install commercial IM solutions are opening themselves up to a potential Pandora's Box of viruses, worms and network degradation.
Today, 50 percent of people polled use IM at work, according to The Radicati Group's Instant Messaging Corporate survey, released in October. However, only 24 percent of organizations have deployed a formal IM structure, the report found. Security and a drop in productivity are two main reasons why corporations have not deployed IM solutions, according to The Radicati Group.
However, by implementing a private IM network, corporations and government agencies actually can boost productivity, cut telephone costs and improve customer service, self-described "serial entrepreneur" Gideon Stein, CEO and a director of Omnipod, said. The Manhattan-based company already has proven this to clients such as the state of Florida, the state of Virginia, PepsiCo International, the Mayo Clinic and Green County Commercial Bank.
Omnipod's Enterprise IM Solution includes hosted secure IM and chat, secure file sharing and transfer, SMS text messaging and Web-based administration tools. In addition, its solution is compliant with SEC, NASD, HIPAA and Sarbanes-Oxley regulations, according to Omnipod. Stein spoke with E-Commerce Times about the advantages organizations can reap by tapping into the world of secure and private IM networks.
E-Commerce Times: The whole area of private instant messaging has to be a pretty exciting market to be involved in right now.
Stein: It's really maturing very quickly. We're seeing a lot of adoption across a bunch of different sectors. We have a state practice, a Fortune 500 practice, a healthcare practice, a small, medium enterprise practice — they're all taking off together. We're seeing a great need for secure, controlled IM across, basically, every industry.
It's like e-mail. E-mail may have started in universities and taken a few years to take off, but by the mid- to late '90s, every company had to have e-mail. IM's really no different. The consumer networks have done a great job, I think, of priming the well for everybody to understand the value of real-time communications. As more and more people use it, the more they need it.
It gives a great opportunity for us to come in and give an enterprise alternative to what they're accustomed to using on a consumer platform.
ECT: Is this comfort with IM technology the reason your market is growing so quickly?
Stein: It's really interesting. People, as in the employees, are very comfortable using it, and they've downloaded it themselves. Most companies we deal with don't have a locked desktop. They allow their employees to download things. Companies are starting to worry about the stress of everybody having these network applications that are incredibly susceptible to viruses and hackers and other kinds of security threat running on their desktop. Employees are comfortable using these platforms, but companies are not comfortable with having these products proliferate and infiltrate their organizations with no controls.
ECT: What sort of security measures does Omnipod take?
Stein: We really see the value of our solution in terms of security and control, and in offering a private alternative to the public or consumer IM networks out there. We offer a platform that is separate from the public networks. We have a proprietary instant messaging and file sharing protocol. We really see security as three separate areas that we try and provide for: One is encryption. Whereas the consumer clients transmit everything in clear text, everything in Omnipod is encrypted using 168-bit triple DES encryption technology. We also offer protection from viruses so there's no ability to transmit executable text through Omnipod's platform.
As a private network you control who has access to the network. An IT administrator or somebody within an organization has to decide who has access to the platform. It's a closed network that conceivably only your employees or your employees, partners and vendors have access to — only people who you, as an organization, designate have access to the system have access to it.
ECT: Do you provide different levels of access?
Stein: The solution provides different levels of access. We have a very sophisticated domain and sub-domain structure, which is very important as our deployments get larger and larger, to tens of thousands or, in some cases, to hundreds of thousands. You'll have a very widespread and disperse workforce and you won't necessarily want rank-and-file employees to instantly chat with the CEO or, in a state example, a state worker to reach somebody in the governor's office or the governor.
For us, it is an important component of security and control. It is not a secure system if anybody can reach anybody at any point and see anybody's presence. The vast advantage of instant messaging is to see that somebody's online and to reach out to them and start a conversation with them in real-time. No other form of communication except a face-to-face meeting has that type of ability. If you call somebody, you don't know if you're going to get them or you're going to get their voicemail. You may have to dial them at home, then dial their cell phone, then dial their office before you reach them. You send them an e-mail, you don't know if they're going to respond in two minutes, five minutes or five days.
With instant messaging, the expectation is if you see that green light or, in Omnipod's case, a blue icon, telling you the person's online, you send them a quick, "You there?" and they respond immediately. You get your questions answered very quickly. If that person's not there, you can go down your list very quickly and see who else you can reach out to and get your question answered.
ECT: Are these features reasons why private instant message networks have matured more than their public counterparts?
Stein: Security and control are definitely the biggest drivers of private IM networks. The initial reaction to the proliferation of consumer IM systems for companies is to turn them off or try to control the proxy levels, so there are Band-Aid solutions that have cropped up like Face Time and IMLogic that work to control the use of IM in a company. For longer term, trying to control the use of consumer IM within the enterprise, we don't see as a very sound strategy.
Look at it from the perspective of e-mail: What company would just tell its employees to go out and get a Hotmail or AOL account for e-mail? You reallysee, as the use of IM becomes sanctioned and executives from companies realize the value of real-time communication and the cost-savings associated from both the productivity gain as well as from the reduced reliance on telephones. They're looking for new types of solutions — and private solutions — to come in and solve their problems.
ECT: Which would you say is the greater driver for investing in a private IM network-productivity boost or cost-savings?
Stein: We've got multi-national corporations, like PepsiCo, and we've got a major Fortune 500 technology company whose name we can't mention with 30,000 employees worldwide, and they've distributed it to a huge number of their employees and they've cut down on telephone costs dramatically by using our solution. For a small- to medium-size company where everybody's in a single office, you obviously aren't going to get the long-distance, international phone savings, but they see dramatic improvement in productivity by having people just be able to ask their question, to multi-task and do several things at once. A sales person can be on the phone with a prospect, send a quick IM to somebody on the technology team asking how the product functions, and get the question answered in real-time.
ECT: Instant messaging really lends itself to people being direct, without any of the niceties of conversation or even e-mail.
Stein: I was setting up an appointment with my attorney a few weeks ago. We had e-mailed, back and forth, where I said, "I need to come in and see you." And he said, "Okay, how's Monday or Tuesday?" My e-mail back was, "Either one's fine." And his e-mail back was, "How's Tuesday?" There were about six or seven e-mails back and forth, and it took about four hours. If we could have IMed — because we were both, obviously, sitting at our computers — it could have taken four minutes.
E-mail's great for sending out a memo to somebody or a message where, if there's a response needed, that's fine. But for a conversation, e-mail is not the ideal technology. If everybody's at a computer, IM is a much better alternative. We see people using IM more and more instead of the telephone. IM is a great cost-saver.
We have a file-sharing component that's being used by more and more companies instead of e-mail attachments. This is also a great cost saver for companies.
One of our clients, PepsiCo International, did an ROI [return on investment] analysis over a two-month period with their international help desk that was supporting users in the Middle East, North Africa, Asia and Latin America. They found they were saving up to [US]$200 per employee per month using Omnipod versus using the telephone. On average, a help desk session would take three phone calls. Their phone bills ran, on average, $1.55 a minute because it wasn't like Plano, Texas, to London. It was Plano, Texas, to Jakarta or Plano, Texas, to Abu Dhabi. From that, they said, "We might not get the same cost-savings across the entire organization but let's deploy Omnipod much more broadly across the organization." It's been a great customer of ours.
ECT: Could you go into some details of how Omnipod worked with 33 agencies in Florida?
Stein: The state of Florida had a few problems. One was, they had consumer IM proliferating throughout the state. It was unsanctioned and they wanted to control it. They also didn't have any interoperability between systems, and they struggled with coordination within agencies, particularly with working groups within agencies. They had these information security officers within 33 agencies and they didn't have a single platform to tie them all together. They've deployed Omnipod throughout these agencies and they've been able to maintain a direct connection and create a channel of communication among working groups within agencies so they're all tied together within a single platform. People in the Department of Education can see that people within the Department of Health are online, and if they're working together on a statewide rollout of an e-mail platform, they can coordinate electronically, in real time, using our platform.
They started to realize the benefits of this real-time communications solution for their Homeland Security and Emergency Management people. We've been adopted by the state technology office and are being deployed throughout the state for real-time notification of emergency alerts. Our platform incorporates a number of different communication technologies; it integrates not only secure instant messaging and chat, but file sharing, e-mail, blast e-mail, blast SMS that enables users to reach people on various platforms, whether or not they're on the Pod [Omnipod platform]. You can be on your cell phone or using your PDA device and get a message from somebody, in real-time, from Omnipod or on the Omnipod platform. That was very attractive to Florida, to be able to take large numbers of users, put them on the Pod platform and, from a single application on a desktop, be able to reach hundreds or thousands of users with a single message.
After [Hurricane] Frances, before Ivan, before Jeanne, I guess, they deployed Omnipod where several hundred new users, as part of [Florida's] continuity of operations plan, were able to send alerts and notifications to all these users in preparation for and after, during the clean-up, for Hurricane Ivan, then Jeanne as well.
ECT: Is Omnipod working with any agencies in other states?
Stein: Virginia is a great example. They've deployed Omnipod throughout their central IT agencies — VITA — and this proved very beneficial to them a couple of months ago when they had a major Microsoft Exchange outage across their statewide network. The outage occurred at the end of the workday, and a number of their technicians were needed to fix the problem. Some of them were already home and others were spread about the state, in various offices and different data center locations. VITA quickly created a secure Pod chat, like they do every day, and coordinated their efforts to bring the statewide e-mail system back up within a few short hours. The real-time nature of IM, plus the fact that Omnipod is a hosted solution and not tied to their Exchange environment or their network, was essential to getting the system up and running really quickly.
A lot of companies are saying they're thinking about diversifying their communications platforms, and are looking toward a hosting solution in conjunction with their internal e-mail solution to provide yet another platform for communications redundancy in the case of a disaster. If their network goes down, Omnipod still runs. It's a really powerful message, a really powerful sales tool.
ECT: Do you have any competitors in the private IM space?
Stein: There are other private IM providers. There are no other private IM-hosted providers. While Microsoft has announced Live Communication Server, Lotus has LotusIM. They are installed solutions. You need to buy the solution, buy servers, have a team dedicated to running a 24 hour a day, seven days a week, network. Omnipod offers customers a turnkey solution that's hosted. It's private IM, but ours is provided on a hosting basis so you don't need to buy any machine, you don't need to staff up to run Omnipod.
In fact, one of our customers deployed 10,000 seats — it's very fast to deploy — in a matter of two days, and very quickly after contracting with us. A contract gets up and running, and we can get through an entire organization in a matter of a couple of days. You want it immediately and you don't want to worry about it.
ECT: So how does the price compare?
Stein: Our pricing, particularly for large enterprises, is very attractive. We've found our pricing is attractive to most enterprises. You're buying a service from Omnipod. They don't have to buy the hardware. They don't have to maintain a staff or train a staff. They pay us on a monthly basis. Our price for secure IM starts at $5 per user per month. It goes up if you add additional functionality to that, particularly file sharing, and the price goes down as the deployment scales. A 100-person organization will be paying a little bit more than a 10,000-person organization.
We've found it's pretty much a no-brainer for companies looking to outsource their secure IM needs. Price is not an issue. It's a very inexpensive solution. As we are a service and not a software solution you have to buy, buy hardware for and then maintain, we come out of the operating budget for most companies, rather than the capital budget.
ECT: Are there any technological challenges facing Omnipod or this market?
Stein: One thing that's really interesting is the whole interoperability case. We've found that a lot of pundits are really excited about the interoperability announcement by Microsoft with AOL and Yahoo, it really is more of a mixed reaction among companies. There are certainly a number of companies that want to be able to communicate externally with people on other networks, but we're finding a real trend towards private IMs-creating separate channels for communications, particularly real-time communications. In the states, in particular, there is a desire to focus solely on private communication that is not connected to external networks.