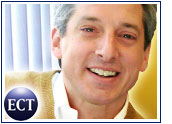 In the first installment of this two-part exclusive interview, the E-Commerce Times spoke with Gomez CEO Dr. Alex Stein about the Internet performance management industry — a field that is booming as more companies see a need for this sort of technology.
In today's edition, Stein discusses the nature of competition versus coexistence, the evolution of Gomez' technology and his vision for the future of Internet performance management.
E-Commerce Times: Internet performance management used to be a "nice to have" rather than a "must have" technology. When did that change?
Alex Stein: I think it goes back to the boom-bust cycle. The majority of our clients are not pure-plays. When the Internet was booming, everyone was saying they were behind the curve. Then there was the bust, and they felt jaded and justified. Now we're working with several of some of the largest electronic retailers in the country, and what we're hearing from them is in 2003 the Internet channel went from no visibility to, all of a sudden, one of the top-producing outlets for these companies.
One of the firms was saying weekly they get a report of productivity. And, [in] the April [2003] time frame or so, the dot-com showed up on the first page of productivity in the weekly report. And in the fall it went to the top half of the first page. It's been one of the top two or three producers since then.
Regardless of the boom-bust mentality, these firms are now saying, "What are we doing to manage this channel?" That's one reason people are more consistently reaching out to us and saying, "We now have a directive from the executive suite to get this under control."
ECT: How are you helping them to do that and achieve ROI?
Stein: For most of our clients, data is almost toxic at this point. They have fewer people and more data and don't know how to deal with it. It's sort of ironic that we sit on 4 terabytes of data that we're refreshing worldwide all the time. If we were to throw that data at our clients, we'd be a nuisance.
It's about taking that 4 terabytes and saying, "You have a problem on the secure section of your site, right here, in this object, maybe because your vendor's having problems. Or maybe because you've done something technical like turn keep-alives off." It's highly actionable, so very quickly they can dig down in 4 terabytes and find the issue that is a problem for them.
ECT: As you're approaching prospective clients — especially those new to this area — are they aware this type of technology is available?
Stein: Not nearly enough, but the word is starting to get out. We have close to 300 really large clients now, and they talk. They talk at industry events. The analysts have started talking about us more. Historically, my first question when I meet with a company is, "What do you know about Gomez?" And I have seen a transition.
I was in Amsterdam a few [months] ago, and I almost didn't ask the question. I was meeting with the heads of e-commerce and operations for ING, which is a huge bank over there, and asked, "What do you know about Gomez?" We had no presence in Amsterdam before or in Holland, so I assumed it would be nothing. But, in fact, they knew quite a bit from their U.S. subsidiary and from some other firms they work with in the U.K.
So I think that maybe the last six months has seen more information get out about Gomez. Certainly, in '03, there were very few people who picked up the phone to call us. Now we're fairly regularly [seeing] that. But we've got more work to do.
ECT: Why is that?
Stein: Maybe I'm a little bit optimistic, [but] this is what I hope: I think we're close to a tipping point in that people do move around and they take their positive experiences — or negative, for that matter — from one place to another. We're starting to see people know about us, or, in the six degrees of separation, we call in and they call a colleague in another firm to check on us. They don't have to call far. On that first call, somebody knows us.
One of our new sales guys — he's a real high-end solutions salesperson — said, "You know, I made nine calls into a Fortune 100 firm in the Chicago area, trying to get a hold of someone — and all nine people called me back." He'd never seen that before.
Our success is [because] we're very highly focused on Internet performance management. We understand how it fits in with the client. Service is a very important part of our model. We get great references, which really help. That's why we're not interested in the small firm — or the large firm, for that matter — that isn't really interested in the Internet because they may use just as much service but not value it.
We have close to 300 clients that it really matters to. The way you can see that is contracts double and double again and double again, sometimes faster, because they're integrating us into their process. They're simply not doing that with the other solutions as far as we can see.
ECT: If you were on the other side — if you were a high-level executive at a company that relies heavily on the Internet — what are some of the things you would ask a Gomez salesperson?
Stein: Before Gomez, I co-founded one of the first online brokerages, so I have sat on the other side of the table. Here was my thought process: "All right, what do you have for me today?" And that was the first hurdle.
Clearly, Gomez does a great job at that. "But, if I buy from you, Gomez, what am I going to have to do? I'm going to invest not just in buying you, but in training my people on you, investing in integrating your technology and your data into my processes, and if I'm going to make all of those investments, I want to know not only are you good today but, as technology evolves tomorrow, you'll be there so that my investment won't be thrown out the window as soon as the next Web services or something comes out."
I think, for the biggest deals we get — the most sophisticated clients — a significant amount [of time] is spent [addressing]: "So, Gomez, what's your vision? Can I count on you to continue to invest?"
In fact, we are very market-driven. What our clients can expect from us is to complement their internal processes and technology. From Tivoli [to] HP to BMC, there are a lot of good companies selling technologies to manage your infrastructure, very carefully, piece by piece. What Gomez is doing is complementing that by allowing you to monitor and manage the rest of the piece — the piece that actually relates to the line-of-business unit. It goes through the firewall, through the backbone, through to the last mile through dial-up, broadband, et cetera, for every single transaction that the line-of-business unit sees as a driver.
As Web delivery evolves, we'll be there. We have XML feeds clients can take into their current structure. We have a Web services interface. We have an initial Web services monitoring capability, even though Web services is evolving. We'll execute Java on your Web pages as part of the monitoring. That piece that your internal investment can't cover, we're focused on.
We don't want to lead the curve: We don't want to build something no one cares about. But we want to make sure when Web services are a driver to your Internet delivery, you know that Gomez will have it. In a sense, it was the old Apple motto: The interface was designed in such a way that once you knew how to use one Apple program, you could use any because they were designed consistently. It's not just that we have a very strong vision for going forward — it's a vision that's directly driven by the market, and we continue to invest aggressively in developing these services.
ECT: Is that highly focused approach what led Gomez to sell Gomez Pro, its Web research arm, to Watchfire?
Stein: Gomez Pro was really the first division the company started with. Since 2001, we've been focusing all of our energy on Internet performance management, and [the sale is] a clear message both to the organization as well as to our clients that we are serious.
At the same time, we recognized [that] many of our clients for performance were also Pro clients. They were interested in continuing to get that kind of research service, and we wanted to make sure they could. We looked for a firm that was interested in investing in and supporting the methods we created.
ECT: Looking ahead, what challenges will companies face online?
Stein: Someone asked me — I think it was the people at ING — "What is the future of e-business?" And I answered, "Well, it's over." They looked at me and said, "What do you mean?" And I said, "It's not about e-business. It's about business."
Think of retail: People are buying gift cards in the store, redeeming them online, then picking up the product in the store. So part of the challenge is the idea that the Internet could be a stand-alone entity is over. You have to have real-time linking from the Internet to inventory control to purchasing/risk control, which makes it much more complicated to manage this channel.
In many cases, this means more outsourcing firms [are] providing part of that account look-up or data look-up or fulfillment capability. So the chance that something can go wrong has increased. Really understanding what you're trying to deliver on the Web and monitoring each piece of it, whether it is just an SLA you're holding a partner to or real-time infrastructure that you're trying to manage, [is vital].
The challenge for our clients is, while the investment to support the Internet is not increasing — staffs are smaller and more is being outsourced — the impact on the overall corporate bottom line is increasing, and, therefore, performance reliability is getting to be that much more of an issue.