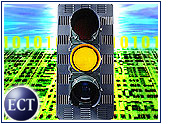 Some of the biggest retailers' Web sites reacted sluggishly during the post-Thanksgiving e-tail rush, with as many as one in five potential transactions failing at peak times, but overall the e-commerce sector held up under intense shopping activity, according to tracking data from two firms.
Keynote Systems said poor performance by a small number of well-known retailers dragged down its overall E-Commerce Transaction Performance Index. The average transaction success rate fell to 80 percent between 9 a.m. and noon Pacific time on Friday, the lowest level since the index was launched. For all of Friday, the success rate was just under 90 percent.
"Typically, the success rate across most sites is above 95 percent," Roopak Patel, product manager at Keynote Systems, told the E-Commerce Times. However, at peak times on Black Friday, "essentially … one of every five people couldn't complete the purchase."
Those problems not only could dent retailers' short-term earnings during the key holiday shopping stretch, but also could have longer-range implications, Patel said.
"Studies show that once a user has a bad experience online at a particular site, they're very unlikely to come back," he noted. "Retailers are being given a perfect opportunity to lock in and secure shoppers long term, and some are dropping the ball."
Weakest Links
Meanwhile, Gomez Inc. said its own Web site performance tracking on the heavy shopping day found that most sites reacted relatively well, with apparel sites actually improving response time amid the heavy traffic, a sign they prepared for the onslaught.
"The big surprise might be that there were few big surprises," Gomez senior performance analyst John Lovett told the E-Commerce Times. "Most sites performed very well."
While Keynote declined to single out specific retailers that caused its E-Commerce Transaction Performance Index to suffer, Gomez said Walmart.com ranked dead last among the Web sites it tracks in terms of Black Friday response time for purchases, with the site taking as long as 54 seconds to complete transactions. Sears.com also suffered on Black Friday, with both response time and purchase success rate lagging until late Friday night.
In those cases, it appears slowdowns occurred not when loading the home page, but rather as shoppers placed items into shopping carts.
"As that happened at high rates at the same time, you started to see performance fall off," Lovett said, citing the relatively high complexity of that process and the fact that many sites run analytical programs in the background that can slow performance.
Girded for Battle
Gomez said apparel sites performed far better than some other types of sites, with response time averages actually improving from pre-holiday levels.
The company also noted that the gap between transaction times for dial-up and broadband users grew on many of the most popular sites, such as Gap.com, CircuitCity.com and BestBuy.com, with dial-up customers needing 100 seconds to complete transactions compared with as little as 15 seconds for shoppers with high-speed connections.
That comparison is part of Gomez' efforts to measure "last-mile" performance, which accounts for such factors as users' computer speed and local Internet traffic.
"The IT department may want to know the best-case scenario data to make sure a site is loading correctly and operating the way it's supposed to," Lovett said. "But a marketing department is going to want to know what really happens when the end users try to complete a transaction."
Balancing Act
While Lovett said many sites appear to have planned well for the seasonal rush, Patel said the underperformance found by Keynote may stem from a lack of investment in key Web areas heading into the holidays.
"Companies have to balance how much time and money to spend on planning," he said. "There's a lot to consider. Obviously, load testing is important, but so is usability. You want to know that the shopper is able to complete the tasks he wants to when he gets to your site."