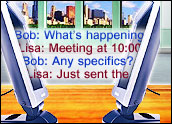 In retrospect, it seems obvious to match the capabilities of Windows with secure messaging software. However, in 1995, when Windows NT first burst into the marketplace, IT managers at first did not have many — if any — options to help their users easily and safely communicate with each other.
This was the challenge facing John Davies. Having developed Unix-based mail solutions for the company he worked for, Davies wanted to find something easier to use, something that ran on Microsoft's burgeoning operating system. When his quest was unsuccessful, he decided to start his own company and write a program he felt sure would be of use to IT professionals at many organizations.
Although Rockliffe initially targeted small and midsize companies, at the bequest of some ISP clients the Campbell, California-based developer quickly moved into the enterprise space. Today, Rockliffe's MailSite family of Windows 2000-based, fault-tolerant messaging software is being used by organizations as diverse as Intel Online Services, Encyclopedia Britannica, the University of Cambridge and Boeing. The developer also has partnered with Hewlett-Packard to jointly develop MailSite for the HP NonStop server, and has OEM relationships with companies such as Rockwell Collins and Call Sciences.
When the E-Commerce Times spoke with Davies recently, Rockliffe's president and CEO was celebrating the company's recent winning of a contract with a large RBOC. In addition, Rockliffe disclosed information on some of its upcoming product releases and development direction.
ECT: So how would you describe Rockliffe?
Davies: We're an e-mail infrastructure software company. We've been doing this for quite some time. I founded Rockliffe in 1995. Back then, there were virtually no e-mail addresses on the Internet. Most were done on an internal network. I had been running a variety of e-mail systems. I was trying to set up an e-mail system using sendmail, and realized how difficult it was.
I came to Silicon Valley in 1986. I was interested in IT management, and got a lot of experience running IT systems and running e-mail systems. I was banging my head against the wall.
About that time, Windows NT was released and I realized there was a need for a standards-based e-mail software package for Windows NT. We shipped our first product in 1996. We started at the low-end: A single server product that was scalable to 100 users. It was good for small and medium companies. Then we had some ISPs buy it, and they really took us up-market — adding clustering, fault tolerance, load-balancing.
We have a product for service providers that runs on Windows 2003 or 2000, for clusters of servers. It supports e-mail for up to 1 million subscribers. We still have many small and medium business customers, but most of our revenues are coming from service providers. We have about 15 million seats installed worldwide: About three-quarters of those are running at service providers — ISPs, ASPs, telcos, wireless carriers.
ECT: Do most sales come from North America or do you have a large international presence?
Davies: We do have a big presence in Europe. We have a subsidiary and three offices in the United Kingdom. We get about 25 [percent] to 30 percent of our business from Europe, and 50 [percent] to 60 percent comes from the Americas, primarily the U.S. and Canada.
ECT: Please could you describe your products a little more?
Davies: We have MailSite SP for our service provider customers and MailSite SE for small enterprises. The SE package is for a single server only — no clustering or database integration. SP supports clustering, database and billing software integration, fault tolerance, creates redundancy and can be scaled to support millions of subscribers.
ECT: How do you differentiate your products?
Davies: We really differentiate ourselves in the service-provider space based on price, ease-of-deployment, especially when compared with Linux and Unix. If you look at the difference between the packages, there really is no direct competitor.
For the small, medium business, there is a lot of competition. Of course, Microsoft has a package with Exchange. The other main competition down at the low-end is Ipswitch iMail. On the solution-provider side, the other software runs on Linux and Unix. Even Microsoft Exchange doesn't have any presence in this market. We also offer provisioning and billing integration.
MailSite MP is complementary to Exchange and [Lotus] Notes. Microsoft Exchange has no antivirus or antispam built into it; neither is there any denial of service built into it. Our customers can buy MailSite MP and employ it as a gateway.
ECT: Over the years, have you noticed any changes in the sales cycle?
Davies: The bigger the deal, the longer the sales cycle. We just closed a deal with a large regional Bell operating company. This has been a very quick sales cycle. They bought a 50,000-seat license for MailSite SP.
ECT: And you also won a contract with Encyclopedia Britannica?
Davies: That was another major win for us. They bought a new product — MailSite MP [Message Protector] e-mail gateway software. They have a couple of hundred employees worldwide. They bought MailSite MP to sit in front of Exchange Server worldwide — antivirus and antispam is included as well as content filtering, e-mail policy enforcement and e-mail server attack prevention.
ECT: What is one of the biggest problems facing IT managers today?
Davies: Spam is a huge problem. There has been a significant increase in the number of viruses. Spammers and virus writers are working in tandem now — they're called zombies. This has only begun over the past six months or so.
Spam, viruses and security are very high on the list, if not at the top of the list. Denial-of-service attacks are another issue they have to deal with. That can bring a server to its knees, too. The other is dictionary harvest attacks. We have good protection against all those in both the e-mail gateways and servers.
ECT: What types of products or features will Rockville be releasing later this year?
Davies: We're actively working on Caller ID for the fourth quarter. It's an additional antispam specification being developed by Microsoft. We've been actively involved with that. We had one of our engineers at a Microsoft developer conference two weeks ago. That's going to be big.
As you add antivirus and antispam to your e-mail server and e-mail gateway, it uses more memory and CPU cycles. That is an issue. We're working with our partners to make these engines more efficient, leaner, meaner and faster.
And, we will be announcing, in the next couple of months, a partnership with a very large wireless company.
ECT: Speaking of partners, what is your relationship with HP?
Davies: HP is a development partnership. They asked us to port the back-end of MailSite to the back-end of HP NonStop Server. MailSite NS is really designed for really large ISPs running more than 1 million e-mail boxes. It's ultra-reliable, ultra-scaleable.
ECT: And how about Rockwell Collins?
Davies: Rockwell Collins is very different. They've OEMed MailSite and incorporated it into a wireless military communications application that's being used on the battlefield. We've been working with them for quite some time, a couple of years.