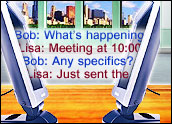 Microsoft, America Online and Yahoo today announced they will collaborate to enable connectivity between Microsoft Office Live Communications Server 2005 and the AOL, MSN and Yahoo instant messaging (IM) networks.
"This agreement represents the dawn of the next era for instant messaging, which will unleash the true potential of real-time communication and collaboration in the workplace, and among our tens of millions of users at work and at home," said Edmund Fish, senior vice president and general manager of Desktop Messaging at America Online.
Currently in beta version, Live Communications Server 2005 is a standards-based enterprise IM solution that will allow companies to extend security, encryption and presence awareness to their customers and partners. The final version is planned to be released by the end of the year.
Shared Vision
This IM connectivity arrangement reflects a shared vision for the potential impact of enterprise IM (EIM) as a productivity tool and platform for the delivery of value-added business services.
"In much the same way that e-mail significantly has changed today's business landscape, instant messaging is becoming just as ubiquitous in organizations," said Anoop Gupta, corporate vice president of the Real-Time Collaboration Business Unit at Microsoft.
He explained that, "Our enterprise customers' Number One request has been to enable connectivity with major public IM networks. The ability of Live Communications Server 2005 to connect with these three consumer IM networks — AOL, MSN and Yahoo — delivers on that request."
Better Communication
"Because seamlessly connecting corporate users together is core to a collaborative experience, America Online is working to provide access to routing and network services within the Live Communications Server 2005 product," said Edmund Fish, senior vice president and general manager of Desktop Messaging at America Online.
"The connectivity enabled by Live Communications Server 2005 will give professionals and organizations the tools they need to communicate more effectively both inside and outside the workplace," said Blake Irving, corporate vice president of the MSN Communication Services and Member Platform Group at Microsoft.
Brad Garlinghouse, vice president of Communication Products for Yahoo, said, "Through our relationship with Microsoft Live Communications Server, we are taking the right steps to open up the Yahoo Messenger network to the enterprise IM community in a more secure, convenient and seamless manner, and we are bringing considerable value to our Yahoo Messenger users with an enhanced communication tool for the workplace."
Extending Presence
He explained that, "By working strategically with leaders in the enterprise IM environment, we are extending our presence and providing our business users with a productive, private and more secure experience."
In a recent report, Nate Root, an analyst with Forrester, said that interest in IM for business use — enterprise instant messaging — is running high. But many potential buyers are scaling back or postponing their planned investment as they run into one core question: Where's the return on investment?
Without interoperability between networks — including both public and private IM networks — firms can only build half-baked versions of the high-value apps that will deliver the best ROI for EIM.