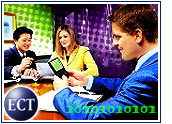 Research In Motion (RIM), maker of the BlackBerry mobile e-mail device, has gained access to the world's largest handset maker with a licensing deal between Nokia and RIM-rival NTP, which is facing off with the BlackBerry maker in court over a patent dispute.
The matter has become even more complex as the death of an NTP shareholder has fueled speculation that RIM and NTP might soon be settling their dispute, which is now more than three years old.
However, industry observers indicated that — regardless of the legal dispute — the Nokia-NTP deal will help Nokia in its aggressive enterprise play and will give RIM a major distribution channel, even though the licensing deal between Nokia and NTP could help NTP's case.
Legitimacy to the Claim
"There is the notion that this lends some legitimacy to NTP's claims," Yankee Group analyst John Jackson told The E-Commerce Times. "It is a case that is still on appeal."
RIM's appeal in U.S. Circuit Court of an earlier ruling that held it was infringing on patents covering wireless communication for e-mail was heard in oral arguments earlier this month. A ruling for the court is not expected for at least a month.
Volume over Verdict
Although it stood the chance of aiding its courtroom adversary, RIM has more to gain in a deal allowing Nokia to sell the BlackBerry in the United States, which is what Nokia announced earlier this week with NTP.
While RIM ships around one million devices per year, they are now gaining the distribution power of Nokia, which ships 50 million devices per year.
Jackson said RIM has been working with other device makers, but has until now been unable to make its licensing scheme "manifest in devices in the market." The Nokia-NTP licensing deal, Jackson added, would help RIM.
"It's not a bad thing to have the guy who makes the most handsets in the world in your camp, especially one that is as hungry to get into the enterprise market as Nokia is," he said.
Nokia's New Try
Jackson said that although Nokia had its BlackBerry-enabled 6800 and 6820 handsets ready for the market, the patent dispute between NTP and RIM had held it back. In addition, Jackson referred to a U.S. user market that is very different — and less apt to use text messaging — from other markets, such as Europe's.
Calling Nokia's previous efforts to introduce its BlackBerry device as "clumsy," Jackson said Nokia could now, through the licensing deal with NTP, "bring loads more functionality into its unique form factor."
BlackBerrry Quick
Held back from offering the BlackBerry mobile e-mail service with its devices because of the patent dispute, Nokia sees the service as a valuable part of its offering for the enterprise, according to Jackson.
He said that, regardless of a victory, defeat or settlement of the patent case, the deal is evidence of Nokia's desire to win business users with its devices.
"Nokia has said this was purely a business decision," Jackson said. "It underscores the urgency with which Nokia is looking to address the mobile enterprise and user."