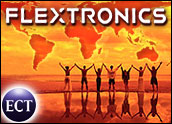 High-profile equity firm Kohlberg Kravis Roberts & Co. (KKR) has unveiled a deal for an affiliate to acquire Indian software company Flextronics for US$900 million.
Flextronics will retain a 15 percent equity stake in the software business with the deal, which represents KKR's first such stake in India.
"This transaction demonstrates the strength of the global investment approach KKR has developed in recent years," said KKR Member James Greene, Jr. "In executing this transaction, we leveraged the resources of our worldwide franchise. KKR is excited about the software development and solutions business and expansive market it addresses."
Big Spending
KKR, which has invested more than $190 billion in more than 140 transactions during the last 30 years, said the Flextronics buyout is subject to regulatory approval, but is expected to be complete this summer.
The move is KKR's second investment in Asia, and its first in India, KKR spokesperson with Kekst and Company Mark Semer told the E-Commerce Times.
Last year, KKR invested in what are considered the two largest private equity deals for technology companies in history, with an $11.8 billion deal for SunGard Data Systems and a $2.8 billion buyout of Avago Technologies, Agilent's former semiconductor unit.
As for the Flextronics deal, it is believed to be the largest leveraged buyout and technology investment in India to date, according to KKR.
Worldwide Trend
With its software and consulting business, and operations in India, the U.S., and Eastern Europe, Flextronics represents the kind of high-growth sector KKR is focused on, firm officials indicated.
The international equity deals are, in part, a result of KKR's opening new offices in Hong Kong and Japan, Semer said.
Industry observers view the deals as validation that the international markets, particularly India and China, are becoming more and more attractive to investors looking for new and developing opportunities.
Growing Investment
Investment in developing tech economies across the Asia-Pacific region makes sense not only for the technology such companies can bring today, but the promise of continued innovation through tomorrow, Frost & Sullivan senior analyst Mukul Krishna told the E-Commerce Times.
"These are very, very high-growth companies," he said. "And they have very qualified and cheap manpower to take it further."
In addition, the amount of money required to grab a promising technology startup is far less in India or China compared to the U.S., Krishna noted.
He added the investments represent "huge deals" for the companies that are being acquired.
Across Infrastructure
KKR indicated that Flextronics CEO Ash Bhardwaj, President Arun Kumar and the company's existing management team would continue to lead the software business, but under a new name that has yet to be selected.
The company fits into KKR's investment plans because of its global presence, and because it delivers communications solutions across network infrastructure, the equity firm said.
Flextronics provides software and design consulting for technology companies including Motorola and Dell, and is also the maker of the Xbox 360 for Microsoft.