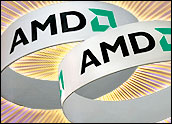 After US$5.4 billion dollars and nearly a year of discussions, Advanced Micro Devices finalized its takeover of graphics chip maker ATI, setting the stage for a revived fight with Intel and Nvidia, which becomes the Intel graphics partner by default.
AMD — which promised integrated platforms next year for commercial, gaming and media computing — said ATI's graphics technology is complementary to its own chips. AMD Chairman and CEO Hector Ruiz said the combined company would give users "a new level of choice."
The keys for AMD to make the merger work and recoup its sizable investment will be to remain focused on its business and revenue without being distracted by the takeover, and pushing forward with innovative, integrated solutions, Gartner Vice President Martin Reynolds told the E-Commerce Times.
"That's the challenge — to deal with Intel without being distracted, and longer term, to build value from it using third-party parts," he said, referring to AMD's larger rival and the PC industry.
Funding Fusion
AMD has paid a significant price for ATI, which it set out to acquire late last year. Although the potential payoff remains to be seen, the $5.4 billion price tag and its impact on AMD's financial situation was significant.
AMD said the deal, for which it obtained a $2.5 billion loan, will benefit both AMD and ATI developers and technical support teams. The chip company will create a new class of x86 processor that incorporates both central processing unit (CPU) and graphics processing unit (GPU) under the code name "Fusion."
Fusion processors, expected in late 2008 or early 2009, will help support robust, 3D graphics, digital media and device convergence, as well as Microsoft's forthcoming Vista operating system, AMD said.
While AMD indicated it would still support ATI graphics with Intel chip technology, Intel may choose to choke that market for its rival, and the ATI acquisition aligns Intel with ATI rival and graphics giant Nvidia, noted Reynolds.
"Nvidia is now Intel's new best friend in the graphics space, because they're the only one left," he explained.
The AMD-ATI buy should not impact PC consumers significantly, but it would add to the trend of lower prices and better capabilities, Reynolds added.
Open or Closed?
While AMD has long touted its commitment to open architecture and the ability of others to build upon its chip technology, the ATI acquisition may complicate AMD interoperability with other graphics cards, IC Insights Vice President Brian Matas told the E-Commerce Times.
"It kind of slams the door on that idea," he said. "[AMD] may be limiting themselves with future opportunities for growth."
Matas — who also highlighted the upside of an integrated CPU-GPU technology and roadmap for AMD — said the move may also increase the likelihood of "swinging in the market," where the chip makers and graphics companies trade turns atop the industry.
"Periodically, year-to-year, one may gain the upper hand," he declared. "It becomes a matter of which is better for the money this year."