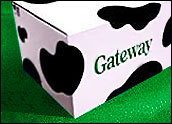 Former eMachines owner Lap Shun Hui has offered to buy the retail operations of PC maker Gateway, to whom he sold his firm in 2004, for US$450 million.
Gateway saw its stock price rise more than 22 percent Wednesday following news of the offer and said its board of directors, as well as financial and legal advisers, were reviewing Hui's unsolicited bid.
In a letter to the firm, Hui reiterated his belief that separating Gateway's retail and direct businesses would be the company's best bet.
"I strongly believe that separating the retail business from the professional and direct business is the right strategic direction for Gateway and the only way for Gateway to enhance its shareholder value," he wrote.
Sense of Urgency
If the company is hesitant to sell off just a portion of the business, Hui said he would also consider purchasing the entire company and would "take responsibility for separating the professional and direct businesses after the closing through a sale or other transaction, or by discontinuing those business lines," he wrote.
Hui signaled in his correspondence a belief that the firm's management needs to "adopt a sense of urgency to address Gateway's problems."
Early indications were that Wall Street might agree, with the Irvine, Calif.-based computer company's stock rising as much as 38 cents per share on news of Hui's offer. Gateway's shares were also buoyed earlier in the week by news of a pending shakeup, widely viewed as necessary for the company, which has not named a new CEO since the office became vacant with the departure of Wayne Inouye six months ago.
Gateway shares closed up 13.34 percent for the day Wednesday, at $1.95.
Separation or Synergy?
The firm paid $290 million for eMachines two years ago and soon after announced it would close all of its 188 branded retail stores. Gateway currently sells its products through 9,500 retail outlets worldwide such as Best Buy and Circuit City stores, via direct telephone and Internet sales, and through its professional channel.
Some analysts are skeptical of Hui's separation strategy for Gateway, noting that the firm depends on its professional, direct and retail operations to work together.
Nevertheless, the market response to Hui's offer makes it an interesting one to track, Gartner Research Vice President Leslie Fiering told the E-Commerce Times.
"I think [Hui] just sees a chance to get it back and make it successful again," she said.
Gateway's decision will be an indicator of the company's future, Fiering opined, whether the board of directors decides that Hui's offer is too good to pass up or whether it feels it can sustain the business as it is.