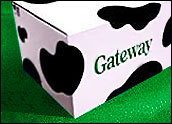 Gateway (NYSE: GTW) CEO Wayne Inouye — who took the helm at the company following its merger with eMachines and led it back to profitability — resigned just days after announcing results that missed profit targets.
The company said Inouye intends to "pursue other interests" after almost two years as chief executive at Gateway. During that time, he sharply downsized the discount PC maker that once vied for PC market share leads but was later overtaken by leaner and more aggressive competitors, especially Dell.
Gateway said its Board of Directors had named Chairman Rick Snyder, who had served as president of the company and helped founder Ted Waite take Gateway public, as interim CEO.
The surprise announcement comes as the PC industry appears primed for additional consolidation following IBM's 2005 decision to sell its computer making division to China-based Lenovo.
Snyder noted Inouye's work to restore profitability and said major strategic changes were unlikely, with the company intending to follow a plan already in place and that "employees and the senior management team have a sense of urgency about improving the company's financial results."
Lean Is Mean
Snyder said Gateway would "take this opportunity to re-examine the strategic direction of Gateway to fine-tune our products, services and approach to our Professional and Consumer Direct markets."
Gateway shares were lower by 7 cents, or about 3 percent in mid-afternoon trading Thursday.
Inouye had vastly stripped down Gateway after the company bought his company, eMachines, in March of 2004. Since its peak in the late 1990s, Gateway closed hundreds of stores across the United States, slashed its workforce by as much as 70 percent and stopped making a range of consumer electronics — such as plasma TVs — in favor of focusing on the PC and related markets instead.
Those moves, and the savings that resulted and made it possible for the company to further cut its prices, helped turn things around late in 2004 and during the first part of 2005, with the company reaching profitability in the second quarter, ahead of its own schedule.
Late last week, however, Gateway reported revenue and profits that fell short of Wall Street forecasts, saying it made US$1.12 billion in the fourth quarter and earned $22.4 million, or 6 cents a share.
The results, which came during a quarter of strong growth for the overall PC market, helped spark a sell-off of Gateway shares, with the stock dropping some 15 percent.
Consolidation Ahead?
Few observers would be surprised to see the PC industry further consolidate, especially the U.S.-based firms which face the most cost pressure from overseas competitors.
The prospect of having to compete with Chinese-based PC makers and the notoriously lean Dell helped convince IBM to exit the market and may prompt others to make similar calls, Gartner analyst Martin Reynolds told the E-Commerce Times.
Unlike IBM, however, Gateway's sole business is PCs and related hardware, leaving it fewer strategic options. Gateway may find itself a target of a buyout as aggressive competitors, particularly those overseas, may be willing to pay to acquire its market share, its brand and its sales channels, which include re-sellers that focus on the institutional and educational markets.
"The market is too competitive for a business that's not operating at peak efficiency," Reynolds said.
Morgan Stanley analyst Rebecca Runkle said in a research note after the Feb. 3 earnings release that the turnaround seemed to have lost momentum and that Gateway was in jeopardy of being relegated to "tier-2 player" status.