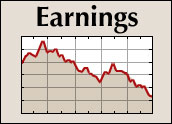 Global communications systems equipment supplier Andrew Corp. today updated its previously issued earnings guidance for the fourth quarter, noting it now expects a loss of 4 cents to 8 cents per share.
The company attributed the loss to slowed purchases by two big customers planning to merge, higher cost for raw materials and startup costs for new product lines.
The company's latest estimate has revenues down from the earlier projections, now predicted in the range of US$450 million to $470 million. Revenues previously had been predicted in the $460 million to $490 million range.
The company said the projected loss includes noncash intangible amortization, restructuring costs and provisions related to exiting certain product lines of approximately 10 cents to 11 cents per share.
Customers Merging
Previously, earnings were predicted of 4 cents to 7 cents per share, including noncash intangible amortization and restructuring costs of approximately 6 cents per share.
The company said one reason for the lower earnings projection was that two large customers have reduced their purchases as they head for merger. It also pointed to higher raw materials costs, especially copper, steel and petrochemicals, and to the startup costs of a supply chain for new product lines.
"In North America, recent GSM-based operator consolidation activity, as well as the effect of other operators who have yet to commit to next-generation technology, has put significant pressure on the current quarter's revenues and margins," Andrew CEO and President Ralph Faison said.
But he expressed optimism for future quarters, saying, "As these operators complete their consolidation and decide on their technology direction, we expect revenue and margins to improve."
Optimism Expressed
As for the impact of raw materials prices, Faison said, "Our margins also are being unfavorably impacted by higher raw material costs, particularly copper, steel and petrochemicals, which partially will be offset by our recent price increases."
"Finally, we continue to be impacted by supply chain start-up costs associated with new products," Faison said.
"Despite these current issues, the long-term market fundamentals of the wireless infrastructure industry continue to be positive," Faison said.
The company plans to announce financial results for the fourth quarter on October 28.
Andrew Corp. designs, manufactures and delivers equipment and technology for the global communications infrastructure market. It serves operators and original equipment manufacturers from facilities in 33 countries. It is headquartered in Orland Park, Illinois, and is an S&P 500 company.