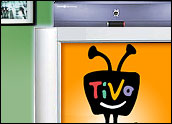 Home entertainment pioneer TiVo today announced it will be dropping the cost of its basic digital video recorder to $99 and will expand distribution of its products to three more major retailers.
The Alviso, California-based company also announced a redesign of its TiVo box and a rewards program for subscribers who refer new customers.
Collectively, the elements of this growth initiative are expected to fuel the most aggressive subscriber growth period in the TiVo's history, the company said in a statement it released.
"Breaking the $100 threshold and expanding our distribution footprint now puts TiVo within reach of many more consumers," Brodie Keast, general manager of the TiVo service, said about the growth strategy.
Mail-in Rebate
The lower prices — which will be in effect through September 30 — and expansion of sales to Sam's Club, CompUSA, Target.com, Fry's Electronics and Costco in key retail markets and Costco.com are scheduled to be in effect as of Wednesday, the company said.
The new, lower prices will be realized by consumers after receiving a mail-in rebate.
The $99 will be for TiVo's introductory, 40-hour model, after a $100 rebate, with service activation before October 31.
The rebate also will apply to, and lower, the cost for all other TiVo boxes. It will bring the price of an 80-hour model to $199 and the 140-hour model to $299.
The monthly fee for TiVo service is $12.95 for the first unit installed in a home and $6.95 for each subsequent unit.
Points for Upgrades
The rewards program is designed to encourage existing subscribers to refer new customers. Existing subscribers will earn points whenever they refer someone who purchases a TiVo box and activates the service.
As part of the rewards program, TiVo also announced it has partnered with Juniper Bank to offer a TiVo-branded Platinum MasterCard.
TiVo Points earned through referrals or purchases on the new credit card can be redeemed for TiVo service upgrades, merchandise, accessories, TiVo boxes, an Apple iPod, Nikon digital cameras, Bose QuietComfort headphones and more.
The initiatives bring to fruition a plan TiVo unveiled in March.
Service Offerings
The TiVo service works with any television setup to automatically find and digitally record up to 140 hours of the programming that interests the subscriber. It also allows for pausing, rewinding and slow-motion live TV.
Founded in 1997, TiVo created a new category of products with the development of the first digital video recorder (DVR).