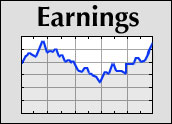 Oracle today announced that its first quarter earnings per share increased 18 percent to US10 cents per share, compared to the first quarter last year, outperforming Wall Street expectations that were closer to 9 cents per share.
In afterhours trading following the release of the earnings numbers, Oracle shares were up 4.17 percent.
"Trailing twelve-month operating income and margin were at an all time high at $3.961 billion and 38.5 percent, respectively," Oracle CFO Harry L. You said.
The business software developer reported net income for the quarter, ending August 31, grew 16 percent to $509 million, while revenues were up 7 percent to $2.2 billion, compared to the first quarter last year. Operating income for the quarter rose to $715 million, an increase of 16 percent over the same quarter last year.
Grid Computing
The company said quarterly software revenues were up 12 percent to $1.7 billion, with new software license sales up 7 percent to $563 million, and software license updates and product support up 14 percent to $1.2 billion. First quarter operating margin rose to 32 percent, compared to 30 percent last year.
"Since we introduced our database for grid computing, Oracle 10g, our database new license sales have grown 16 percent, 15 percent and 19 percent in the last three quarters, respectively," Oracle CEO Larry Ellison said.
"Database grids mark a new generation of much faster and more reliable database technology that runs on groups of low-cost PC servers. Oracle is first to market with database grid technology, and our database sales are trending up," Ellison explained.
New Customers
Oracle today also announced a significant boost from new customers signed during the first quarter. The company's focus on strong, strategic customer relationships continues to contribute to the growth, Oracle said in a statement.
The Oracle E-Business Suite is a set of applications that provides for managing business functions, such as customer interactions, financial management, human resources and supply-chain management. Oracle's open architecture allows customers to deploy applications as individual modules, business flows or an entire integrated suite.
Oracle is the world's largest enterprise software company.