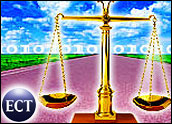 A barrage of lawsuits against several dozen defendants have been filed in federal courts by an antispam alliance of the nation's leading Internet service providers in the latest crackdown on e-mail spam.
The lawsuits were filed by Earthlink, America Online, Microsoft and Yahoo. They represent the second round of suits in the ISPs' get-tough approach to fighting spam.
Earthlink filed suit in federal court in Atlanta, Georgia, accusing 50 "John Does" of violating the federal CAN-SPAM Act and various other state and federal statutes, including the federal Computer Fraud and Abuse Act, the Georgia Computer Systems Protection Act and state and federal racketeering laws.
According to EarthLink's complaint, the defendants have used deceptive and illegal methods to send millions of spam e-mails advertising prescription drugs and low mortgage or loan rates.
Meanwhile, AOL filed two lawsuits in federal court in the Eastern District of Virginia in Alexandria, Virginia — both naming numerous "John Does" as defendants and alleging violations of federal and state laws.
'SPIM' Lawsuit
The AOL suits allege violations of the federal CAN-SPAM law, the Virginia antispam state law and state common law. The lawsuits together are based on more than 2 million complaints from AOL members globally, and based on hundreds of millions of spam e-mails.
One of the AOL lawsuits is the first to specifically target "SPIM" — the spam equivalent for Internet messaging and chat room messaging — for AOL.
AOL also filed a lawsuit against an alleged spammer accused of peddling controlled substances, including Vicodin and other pharmaceuticals, which are legally available only with a physician's prescription.
Microsoft weighed in with three lawsuits today alleging that defendants spoofed the domains of all four Internet service providers and used open proxies to route the e-mails. The defendants — one named and two "John Does" — allegedly sent millions of e-mails soliciting herbal growth supplements, mortgage services and get-rich-quick schemes, all in violation of the CAN-SPAM federal law.
California Law
Yahoo filed a lawsuit against East Coast Exotics Entertainment Group and Epoth accusing them of disguising their identity, designing messages to circumvent spam filters, and using sexually explicit subject lines to send unsolicited sexually oriented spam e-mail messages.
The Yahoo suits were filed in the U.S. District Court for the Northern District of California in San Jose, California, under the CAN-SPAM Act, the Computer Fraud and Abuse Act, the California Computer Crime Statute and the civil conspiracy law.
This is the second round of spam-related enforcement actions filed by the antispam alliance, which was founded in April 2003 and is led by AOL, EarthLink, Microsoft and Yahoo. The companies previously joined on March 10 to file the first major industry lawsuits over spam alleging violations under the new CAN-SPAM Act, which went into effect on January 1.
"We remain committed to using the law, along with technical solutions, consumer education and legislative support, to stop the flow of spam and enhance the Internet experience for all users," Les Seagraves, assistant general counsel and chief privacy officer for EarthLink, said.
Continuing Fight
He explained: "Enforcement actions against spammers, including litigation and cooperation with our industry peers, continues to be an important component in the fight against spam. EarthLink's legal efforts to stop spam have helped put spammers out of business, and, in the case of Howard Carmack, have shown that there are real criminal consequences for sending illegal junk e-mails."
EarthLink won a US$16.4 million judgment and injunctive relief against Carmack, aka the "Buffalo Spammer," which shut down an operation that had been blamed for more than 825 million spam e-mails on the Internet. EarthLink's pursuit of Carmack led to his eventual criminal conviction by the New York Attorney General's office on charges related to his spamming.
"These lawsuits demonstrate that AOL's assault on spammers on behalf of our members continues unabated. AOL and our members continue to make spam-fighting a priority, and we continue to use the legal process on their behalf to help put a lid on the worst, most active spammers – no matter where they are, or how they send their unwanted junk," Randall Boe, executive vice president and general counsel of AOL, said.
"With today's lawsuit against East Coast Exotics Entertainment Group, Inc. and Epoth LLC, we are holding spammers directly accountable for unlawfully disguising their identity and using this practice to deceive e-mail users," Mike Callahan, senior vice president and general counsel for Yahoo, said.