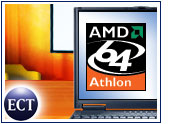 Terrorism fears rattled some markets around the world today as word that terrorists were reportedly eyeing the energy infrastructure of the U.S. drove oil prices back toward record levels again and helped drive stocks lower on the session.
The markets managed to bounce off sessions lows, but finished in the red across the board. The Dow finished down 38.79 to 10,208.80, the Nasdaq dropped 16.78 to close at 1,914.88, and the S&P 500 lost 3.67 to 1,111.47.
Meanwhile, chip maker Advanced Micro Devices today reported a quarterly profit that met Wall Street's expectations, after a loss a year earlier amid healthier demand for personal computers and cellular phones.
AMD, however, said it expected sales to rise only modestly in the third quarter, and its shares fell 2 percent in after-hours trading.
Expectations Matched
In its second quarter, the Sunnyvale, California-based company reported a profit of US$32 million, or 9 cents a share, compared to a year-earlier loss of $140 million, or 40 cents a share. This matched Wall Street's consensus estimate.
Second-quarter sales rose 96 percent from the last second quarter to $1.26 billion. Wall Street had been expecting a revenue of $1.24 billion, according to a survey of analysts by Reuters.
Oil prices continued to be extremely volatile, breaking above $41 per barrel before easing back to $40.97 in New York, erasing much of the price drop that occurred after oil hit a record of $42 last month. Crude futures marked their highest closing price since June 1st.
Disappointment with Intel
The latest spike came after a published report said that the FBI had warned specifically of possible attacks on the nations energy lifelines. Many analysts say the U.S. needs to grow stockpiles of gasoline and home heating oil in case supply is disrupted. The most recent Energy Department data showed inventories lower last week as consumption of fuel continues apace.
Fueling the losses on Wall Street was disappointment over earnings from tech bellwether Intel. The chip maker hit targets for second quarter growth and said quarter-to-quarter sales could be up 10 percent or more as back-to-school computer shopping picks up. But the company said its margins were shrinking and that it would curb some manufacturing to allow bloated inventories to ease.
Also in the mix was a weaker-than-expected retail sales figure for June, with the Commerce Department saying sales fell 1.1 percent from the month before. Much of the drop was attributed to sharply lower auto sales, which tumbled 4.7 percent.
But department store sales and restaurant receipts also were lower, the report said, providing just the latest piece of data to suggest a slight cooling in the economy.
Apple Profits Soar
In other news, Apple today announced it posted a net profit of $61 million in the third fiscal quarter ended June 26th. This was up from a net profit of $19 million in the same quarter a year ago. Revenue for the quarter was $2.014 billion, up 30 percent from the year-ago quarter. Gross margin was 27.8 percent, up from 27.7 percent in the year-ago quarter.
International sales accounted for 39 percent of the quarter's revenue. The quarter's results include an after-tax restructuring charge of $6 million. Excluding this charge, the company's net profit for the quarter would have been $67 million, or 17 cents per diluted share.
"It was an outstanding quarter — our highest third quarter revenue in eight years," Apple CEO Steve Jobs said. "Our Mac-based revenue grew a healthy 19 percent, and our music-based revenue grew an incredible 162 percent. We've got a strong product portfolio, with some amazing new additions coming later this year," he said.
"We were very pleased with our 30 percent year-over-year revenue growth and our operating margin expansion," Apple CFO Peter Oppenheimer said. "Looking ahead to the fourth quarter of fiscal 2004, we expect revenue of about $2.1 billion and earnings per diluted share of 16 cents to 17 cents, including 1 cent per diluted share in restructuring charges."