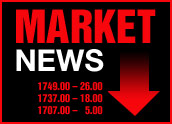 Despite strong earnings from a number of blue-chip technology companies, the Nasdaq tumbled to a two-month low Friday as the markets closed out a week marked by persistent questions about the economic recovery.
The Nasdaq closed at 1,883.15, down 29.56, or more than 1.5 percent on the day, finishing below the 1,900 level for the first time since early May.
The tech-laden Nasdaq has lost a full 6 percent since a rash of earnings warnings were sounded two weeks ago.
The Dow fared slightly better, finished down 23.38 points at 10,140.96. The S&P 500 also lost half a percentage point, dropping 5.30 to end the week at 1,101.39.
Technology Pessimism
Underscoring the technology pessimism was Intel, which hit a 52-week low during the trading day, while shares of Dell, which were up 1.7 percent after a positive earnings announcement, and IBM, which rose more than 1 percent, bucked the trend.
One of the big winners on the day was Martha Stewart Omnimedia, which gained almost 40 percent on the day to close at 11.81.
The stock shot higher after Stewart was sentenced to five months in prison and five months of home confinement on obstruction of justice charges.
A judge postponed the start of Stewarts sentence until her appeal can be heard.
Oil, Inflation Data
When investors managed to turn their focus away from tech, they were once again besieged by higher oil prices, as crude matched a six-week high in New York trading in the wake of an attack on an Iraqi pipeline that refreshed fears that supplies to the U.S. could be impacted by terrorism.
A government report said inflation among consumers was mild in June, providing just the latest evidence that the economy is cooling.
Consumer Confidence, as measured by the Michigan University survey, was higher in June, but failed to meet expectations.
Still puzzling investors and economists is whether the economy is taking a summer holiday or whether the recovery that picked up steam late last year, and grew to a boil earlier this year when more than a million jobs were added, has run its course.