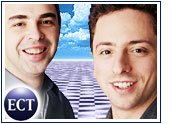 Investors who want to own a piece of Google likely will have to dig deep into their pockets considering the share-price range of US$108 to $135 the company set today for its upcoming initial public offering.
At the expected prices and with some 24.6 million shares up for grabs, the offering would be worth between $2.6 and $3.3 billion, more than most early estimates, with Google in line to receive as much as $1.9 billion in cash.
The pricing including in the SEC filing today is an estimate, since Google plans to let the investing public decide what its shares will sell for through a so-called Dutch auction process.
Mountain View, California-based Google's latest Securities and Exchange Commission (SEC) filing also reveals that the company plans to trade under the symbol "Goog" when it makes its debut on the Nasdaq. Though no date has been set, many observers believe the IPO will happen within the next month to six weeks.
More Financials
Google also updated its financial data in the filing, saying that during the recently concluded second quarter it earned $79.1 million on revenue of $700.2 million, up from $64 million in profit and sales of $651.6 million in the first quarter.
At $36 billion, Google would have a market capitalization comparable to that of rival Yahoo, which is currently valued at around $38 billion. For comparison, Microsoft, another rival in the white-hot search market, has a market capitalization of more than $311 billion.
Despite the fact that the stock market has taken a beating in recent weeks, with the Dow closing below 10,000 and the Nasdaq hitting a 10-month low last week, the IPO market remains robust, a fact some analysts attribute at least in part to the excitement over Google.
Pent-Up Demand
"There is some spillover effect," Tom Taulli, editor of CurrentOfferings.com, told the E-Commerce Times. "There's pent-up demand because of Google, and some of that is probably being channeled elsewhere," he explained.
Taulli said he has been deluged with interest in the Google offering since it was merely a rumor earlier this year, with some would-be investors even mailing checks on the off chance he could invest in the IPO for them.
Some have expressed concern that the level of interest could set the Google IPO up for failure, especially because of the unorthodox method being used to sell the shares. In traditional IPOs, underwriters set prices based on the expected demand, often doing so in a way that ensures shares do not fall when they hit Wall Street.
With the public setting the price under the Dutch auction approach, the stock could easily become overvalued and lead to a first-day disappointment, Taulli noted.
Google has used its recent SEC filings to warn of that very scenario, including it among several other risks that it lists as potentially damaging to its share value.
Bizarre Process
But Haim Mendelson, the General Atlantic Partners Professor of Electronic Business and Commerce at the Stanford University Graduate School of Business, noted that traditional underwriting has also been criticized for its handling of IPO pricing because large first-day increases often benefit the underwriters more than anyone else.
In the past, underwriters often had an inherent conflict as well because the same bankers that were sponsoring IPOs had analysts recommending the stock, Mendelson told the E-Commerce Times. "At least in theory, this approach minimizes the risk of the public being misled," he said.
Still, it remains to be seen whether the Dutch auction approach will result in investors being happier in the end. Past offerings that used that process have had mixed results, and none has been as high-profile as Google, Mendelson said.
Nonetheless, with Google offering less than 10 percent of the company through the offering, "There will still be a debate," he added.
The level of interest has already helped make the IPO unusual in other ways as well. One of the original underwriters, Merrill Lynch, withdrew from the offering, citing lower-than-normal fees for the work. And an offshore sports betting site has begun to take bets on whether Google's shares will rise or fall when they finally debut.