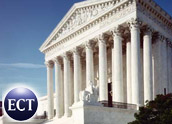 The U.S. Supreme Court has sided with Microsoft in a closely watched patent dispute that could limit the reach of domestic patents in overseas uses.
Monday's 7-1 decision overturned a lower court ruling, essentially concluding that Microsoft is not liable for overseas patent infringements in machines that run the Windows operating system and use a voice translation technology patented by AT&T.
AT&T had successfully argued to two lower courts — including the U.S. Court of Appeals, which heard the case at Microsoft's behest — that using the digital speech decoding technology, commonly referred to as "codec," in computers sold internationally resulted in new patent infringement violations, because the computers contained a component that had been found to be infringing in the U.S.
Blueprints vs. Components
The Supreme Court disagreed. Justice Ruth Bader Ginsburg, who penned the majority decision, said the lower courts extended an exception in patent law too far. A key distinction was that rather than sending infringing technology overseas, Microsoft merely sent blueprints for building Windows-compatible PCs and not an actual technology "component," Ginsburg said.
"The master disc or electronic transmission Microsoft sends from the United States is never installed on any of the foreign-made computers in question," Ginsburg wrote. "Instead, copies made abroad are used for installation."
Neither company immediately commented on the ruling, which was handed down less than two months after the highest court in the U.S. heard oral arguments on the case, one of several major patent spats the court has wrestled with in recent sessions.
Ripple Effect
For Microsoft, which acknowledged violating AT&T patents in the U.S. and settled the case with the telecom giant, the ruling could save tens of millions of dollars in possible royalties or licensing fees.
In casting the lone dissenting vote, Justice John Paul Stephens said Microsoft's argument that the documentation is not a "component" that can be deemed infringing was not enough to convince him to overturn the lower court rulings.
"The relevant component in this case is not a physical item like a knife," he wrote, referencing a 1972 decision that sparked a clarification of the original law from Congress. "If a disk with software inscribed on it is a component, I find it difficult to understand why the most important ingredient of that component is not also a component."
The case dated to 2001, when AT&T first filed suit against Microsoft for infringement, saying it would seek royalty payments for every Windows installation worldwide.
AT&T argued that Microsoft identified a "loophole" in the patent language — one that can be widely exploited to export infringing uses with impunity now that the lower court ruling has been overturned.
However, Microsoft has enjoyed the backing of much of the U.S. software industry in this fight, as well as the support of its former foes in the U.S. Department of Justice, which accused the software giant of acting as a monopoly in the 1990s. In fact, the Solicitor General filed briefs on Microsoft's behalf in the AT&T case.
Those who backed Microsoft argued that upholding the AT&T decision could have numerous negative consequences: For instance, more companies might move R&D operations offshore in order to avoid being covered by strict U.S. patent law.
Reforms Still Needed?
The decision "clearly affects the software industry," attorney Raymond Van Dyke of Nixon Peabody in Washington, D.C., told the E-Commerce Times. "In some ways, it's a very narrow statutory decision. AT&T had one view on the level of whether software can be a component, and Microsoft [had] a very different view."
The ruling could have far-reaching impacts, however, and Van Dyke said he would not be surprised if Congress stepped in to further clarify patent law. The statutory language in question was added after a 1972 Supreme Court ruling, he noted.
"Just as congress reacted to the 1972 Deep South decision, they may find it necessary to react here," Van Dyke remarked. "The interesting thing is how this all shakes out in the end."
The Business Software Alliance (BSA), which filed briefs on behalf of member Microsoft, hailed the AT&T patent ruling, along with the outcome of a second case taken up by the court, in which it ruled that the U.S. Patent and Trademark Office could make it more difficult for applicants to obtain patents in the first place.
Still, BSA President Robert Holleyman said additional reforms are still needed to ensure that U.S. software companies can remain competitive overseas.
"We do not see these decisions diminishing the need for existing patent law to be modernized," Holleyman told the E-Commerce Times.
Congress is already weighing a patent reform bill that contains several key provisions for bringing the patent process up to date and ensuring that protections "meet the growing challenges of the 21st century."