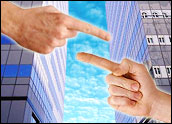 The heavyweight patent battle between Qualcomm and Nokia grew more heated Friday, with Nokia responding to Qualcomm's decision to reject a US$20 million payment by saying that it will more aggressively enforce the patents it claims Qualcomm is using in its own mobile phones.
On Thursday, Qualcomm disclosed that it had turned down an offer of $20 million from Nokia that would have allowed the Finnish handset maker to continue to use the U.S.-based Qualcomm's technology. An existing contract to build the technology into Nokia products expired earlier this week.
That payment is believed to be considerably less than the earlier royalty deal, signed in 2001. The proposed payment reflected the diminished role of Qualcomm advances in next-generation mobile standards, Nokia said. Nokia also stated it will order Qualcomm to stop using its own technology if a deal was not reached.
Current Products
Qualcomm responded by saying that it was possible that none of its current products relied on Nokia technology — though past products have — a claim that Nokia disputed Friday.
As many as 100 of Nokia's patents are part of Qualcomm's products because they rely on standards built in part with Nokia technology being contributed, Nokia said, adding that because it produces 200 million units a year, Qualcomm is likely the biggest user of Nokia patents on the planet.
"If Qualcomm's products comply with industry standards, it is in the same position as any other supplier of mobile technology in that it needs access to Nokia's patents covering standardized technologies such as mobile packet data and speech compression," Nokia stated. "If Qualcomm intends to continue making industry compliant chipsets, then it will need access to Nokia's technology and patents."
Dueling Portfolios
The two companies will continue to talk, both stated, but each seems eager to take its message directly to the public as well — with the companies taking the unusual steps of issuing press releases — apparently hoping to gain leverage in the negotiations.
The standoff could have wide-reaching implications for both companies. Qualcomm would assume that Nokia has agreed to continue its existing license if it sold handsets using Qualcomm technology after that deal expired on April 9, the company stated. Nokia had an option to extend that deal, Nokia stated, adding that it would expect it to cover more Qualcomm patents.
The original deal is too lucrative for Qualcomm, Nokia stated, adding that it doesn't adequately reflect the diminished impact of the company's technology on today's handsets.
The patents in question are mainly those wrapped into industry standards for mobile communications. Qualcomm in particular has benefited from contributing its technology to the base of knowledge needed to make phones interoperable.
Unlimited Ceiling?
Though neither company has said what it is paying the other, Nokia may be paying Qualcomm up to $500 million a year in ongoing payments. Qualcomm has some 70 revenue-generating licensing deals in place, the company stated, and it typically derives a significant portion of its revenue each year from licensing its technology.
Because of Qualcomm's reliance on IP licensing, it is unlikely to accept lower fees from a vendor as high-profile as Nokia, which is a major handset supplier to the European market, Forrester Research analyst Charles Golvin told the E-Commerce Times.
"For Qualcomm, licensing fees are a very important revenue stream," he noted.
The evolution of the mobile market and the migration to next-generation platforms certainly causes doubt, however, about how much of any company's technology is being used in today's handsets, especially since different markets have embraced different standards for high-speed data-friendly networks.
Though they continue to talk to each other, both sides have also asked for the courts to step into the fray. Qualcomm last week asked an arbitrator to rule that Nokia had by default extended the original deal, signed in 2001, by continuing to sell Qualcomm-enabled handsets.
Both companies are familiar with patent disputes. Qualcomm in particular is locked in a legal struggle with rival chipmaker Broadcom over intellectual property as well as antitrust issues.