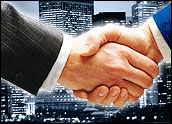 In a potential blockbuster trade that could re-unite two telecommunication giants separated by regulators, SBC Communications is reportedly in talks with AT&T about a merger that could be worth at least US$16 billion.
If the deal comes to pass — and various reports say it is as likely to fall through as it is to be consummated — SBC would be acquiring its onetime parent company. The two were separated in 1984 as part of the massive breakup of the original AT&T. The remaining AT&T became a long distance specialist, and the regional "baby bells" handled local calling and basic service.
Since then, huge changes in the marketplace have made two of those baby bells — SBC and what is now known as Verizon — formidable telecommunications giants with a hand in everything from local calling to high-speed Internet service and mobile communications, while weakening AT&T as a consumer company and forcing it to focus on businesses to survive.
Powerful Business Focus
AT&T still has nearly 30 million long-distance customers, but has all but stopped seeking new customers on the residential side of its business. SBC has about 50 million local-phone customers.
Analysts said the deal would give SBC access to a powerful business-focused operation in AT&T, albeit one that is struggling to grow revenues and profits in the face of fierce price competition with MCI. AT&T's massive global high-speed fiber network would likely be one of the main prizes if the merger were to take place, along with its enterprise client base.
Shares of SBC were lower in early trading today, losing more than 2 percent to $24.02. AT&T shares, meanwhile, surged higher, up as much as 7 percent to $19.58.
That the merger would partly undo the breakup ordered by regulators more than 20 years ago is not a surprise given the direction the rapidly evolving telecommunications marketplace is taking, independent telecom analyst Jeff Kagan told the E-Commerce Times.
"What's interesting is that the marketplace is trying to put back together what the regulators took apart," Kagan said. "But at least it's putting it back together again in markets where there are multiple competitors."
New Era
The telecom landscape has completely changed since the AT&T breakup, with telecoms now involved in businesses, such as data services, that weren't envisioned at the time, and competitors — including cable companies and VoIP specialists — readily entering a business that was once thought to be barred to new entrants.
The bottom line, Kagan said, is that "long-distance wasn't a standalone business. It's only viable now as part of another business."
While the Bush administration has been welcoming to changes in the marketplace and has taken a favorable, anti-regulatory approach — particularly under outgoing Federal Communications Chairman Michael Powell — the marketplace changes are more important than the regulatory ones, Kagan argues.
"We had mergers in the Clinton administration, then we had a break because of the telecom meltdown and WorldCom and the like," he added. "Now we're getting back into it in the Bush administration."
"What we've learned is that we're better off not trying to predict or mold the industry," Kagan said. "The industry is changing and we're better off letting it figure it out. We need to watch it, to make sure that consumers or other groups aren't taken advantage. But I think the industry needs to find itself and we need to let it do that."
Green Lights Predicted
Regulators would be likely to green-light the SBC/AT&T linkup because AT&T has largely moved away from servicing residential customers. Last year, it announced it would no longer service the local phone calling market after regulators gave baby bells the right to set their own prices to allow those calls to be carried on their networks. AT&T long ago spun off its wireless division.
Analysts said AT&T is ripe for acquisition because of its falling fortunes in recent years. BellSouth, another regional carrier created by the breakup, was reported to be in advanced talks of its own to buy AT&T, only to have discussions break down on issues of price.
While its traditional business is partly still a regional one with a heavy concentration in Texas and California and in the midwest, SBC's reach is much greater in other areas. For instance, along with BellSouth it co-owns Cingular Wireless, which after the recent buy of AT&T Wireless now has around 48 million customers.
It became one of the first major carriers to offer nationwide VoIP service in November of 2003, and it has been a longtime partner of Yahoo, co-branding a high-speed Internet service with the portal.
While consumer groups might express concern and might even have success in mobilizing regulators or lawmakers, the merger would be good for the industry and consumers alike, Steve Titch, senior fellow for technology issues at The Heartland Institute, told the E-Commerce Times.
"If this merger in fact moves forward — which is in and of itself far from certain — it would probably be good for consumers and investors alike," Titch said. "Regulators and elected officials ought to stay as far away from this development as the law allows."
Titch said the merger would not be a reconstruction of the old Ma Bell. "It is about simplifying home technology for consumers," he added. "Legislators and antitrust officials should carefully consider the impact that blocking mergers like this would have on progress toward networked applications in the home."