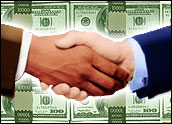 Reports of the demise of the consolidation trend in the wireless sector might have been premature, as Alltel, whichcurrently ranks sixth in the U.S., is reportedly in talks to buy regional carrier Western Wireless.
The deal, which has yet to be made official, would be worth an estimated US$4 billion, including the assumption of $2 billion worth of debt by Alltel, according to published reports.
Though it would not significantly alter the wireless carrier rankings, the potential move is seen as a way to protect the rural turf the two companies have focused on from incursions from rivals made more powerful and possibly more aggressive after their own mergers.
Network, Capital Backing
The merger, which would give the combined company just under 10 million subscribers, would combine profitable Alltel with a company that has struggled to remain profitable in recent years, though Western did post a profit in its most recent quarter.
Western Wireless focuses mainly on 19 states in the Western U.S. Western also has some 72 million overseas customers in places such as Ireland, Austria and Haiti.
Analysts were quick to cite the benefits of the combination, which would help the two small carriers create the type of large scale network and capital backing needed to expand services and revenues.
There is little geographic overlap, with Little Rock, Arkansas-based Alltel operating primarily in the Southeast. Alltel also brings non-mobile services to the table, including wire-line local calling and phone book listings services that could help pave the way for additional mobile services.
All That's Left
Many industry watchers believe the Sprint/Nextel merger, which has yet to win regulatory approval, will likely be the last major deal among major national carriers because of the heightened concern that additional consolidation would be harmful for consumers.
That leaves scores of small, regional carriers as a logical target for smaller national and aspiring national carriers such as Alltel and T-Mobile.
Those regional carriers are more important than their size indicates in some cases, analysts said, because they offer national carriers the ability to let their own customers roam into areas where the company doesn't have coverage.
Ovum analyst Jan Dawson said all mobile mergers are based on the premise that there are synergies to be found in the combination. The way the geographic pieces fit together with Alltel and Western is one example. Others will include enhanced clout in negotiating those roaming deals with the likes of Verizon and Cingular.
Negotiating Position
"The trick with the supposed syngeries always lies in making the mergers work over the long term," Dawson said. "Too many mergers have failed as the anticipated synergies don't emerge right away. "
Alltel already has roaming agreements in place with Verizon. If that company were to buy up smaller regional carriers, its need to share resources with Alltel would be lessened.
Likewise, controlling more rural areas would conceivably put the smaller carrier into a stronger negotiating position with those partners and prompt them to open up not only their existing networks but their next-generation offerings, which are expected to include mobile-commerce features such as music downloads and faster Web access.
That has led some analysts to predict that well-financed companies like Alltel will seek to roll up rural carriers into far-flung networks that are too expensive for the larger companies to buy outright.
Bulking Up
While analysts say there are few advantages to simply growing larger for its own sake, they also note that size has made it possible for the biggest carriers to make investments that would be well out of the reach of smaller companies.
For instance, Gartner analyst Jason Chapman noted that shortly after its merger with AT&T Wireless, Cingular Wireless announced plans to build a Universal Mobile Telecommunications System (UMTS) network in the U.S. that will involve a massive investment but also stands to enable the carrier to greatly expand its per-user revenue.
Western's cash-flow position would likely make it increasingly difficult for that company to compete over time, he noted.
"The bigger carriers have little choice but to build and offer new services, despite the huge cost involved," Chapman said. "They have to do it to stay competitive, and those that can't will be at a disadvantage."