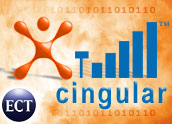 Bidding to solidify and expand its new role as market leader in the wake of its merger with AT&T Wireless, Cingular Wireless has announced plans to roll out faster wireless service and more broadband-dependent services nationwide.
Cingular said its completion of the US$41 billion merger with AT&T Wireless gives it the spectrum space it needs to foster growth of so-called 3G, or third-generation, wireless, which promises faster connectivity and the ability to deliver more speed-dependent services, such as the wireless transmission of large data files, as well as music and even video.
To support the rollout, Cingular announced deals with Ericsson, Lucent Technologies and Siemens to help build out the network. The network will be built on two international standards: Universal Mobile Telecommunications System (UMTS) and High Speed Downlink Packet Access (HSDPA).
The work is slated to begin in "major urban and suburban areas" in 2005, Atlanta, Georgia-based Cingular said, with the coast-to-coast network up and running by late 2006.
Kris Rinne, Cingular's chief technology officer, said the rollout and the announced partnerships mark a "significant milestone" for the wireless industry.
"The selection of these vendors will bring tremendous intellectual capital to the team as we work to achieve our common goal to bring the next generation of mobile multimedia services to consumers and businesses," Rinne said in a statement. "The investments we're making today will pay big dividends for our company and our customers. These companies have the expertise to put a network in place that will turn the promise of 3G into reality."
Speed Demons
The appeal of next-generation wireless services is the speed it offers, which in some cases could be comparable to many home broadband Internet connections. That, in turn, means that wireless carriers can sell a slew of additional services to both consumers and business customers, driving revenue and profits at a time when many analysts say subscriber growth, especially in the U.S., is likely to start slowing.
Just as the AT&T buy helped leapfrog Cingular over Verizon Wireless to the top of the industry in terms of size — with some 47 million paying customers — the new network would likely give it an overall faster network, a distinction most say Verizon can now boast. Verizon's network includes about a dozen high-speed pockets in key cities.
Analysts said while Cingular might be slightly ahead, Verizon and others will likely have fully established high-speed networks available around the same time. The more likely differentiator will be the services offered and, eventually, pricing, which could mean a boon for wireless customers on the horizon.
Gartner principal analyst Tole Hart said the same fierce competition for the same base of customers now being fought over traditional wireless service will be played out again on the next-generation networks.
"Any given company might move ahead in terms of technology, but the gap is rarely that large," Hart said. "The battle for customers is over services and price."
Picture This
Cingular's own EDGE service provides speeds of up to 135 KB per second. By comparison, the fully built 3G network is expected to run as fast as 700 KB per second. AT&T Wireless had been a leader in 3G, launching services earlier this year in a handful of cities.
Wireless company executives are excited about the prospects of faster networks because of the way it stands to expand their menu of service offerings. Many see everything from the booming music download business to search-based advertising and even streaming video — allowing remote conferences to be seen even in places where hard-wired networks fall short — being moved to the wireless spectrum.
The vision is an ambitious one, but analysts say that the wireless industry will benefit if even a fraction of it comes to pass in the near future. However, others say the industry has to move with caution to avoid alienating their customer base.
According to independent wireless analyst Emma McClune, the trend in Europe and elsewhere is for companies to require long-term contracts for early 3G sign-ups, which is not surprising given that customer loyalty toward wireless carriers is "at an all-time low."
"The carriers have to be careful not to give away the store in trying to lock in customers," McClune said. "The public will come to 3G of their own accord and will come to the carrier that offers the best services."
McClune said the faster wireless networks will appeal first to cutting-edge technologists and especially young people, for whom sending and receiving any type of information over wireless networks is already second nature.